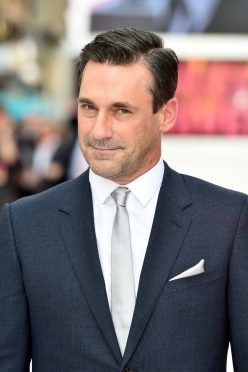 Mad Men star Jon Hamm has joined David Tennant and Michael Sheen in the cast for upcoming fantastical TV drama, Good Omens.
The US actor, who also played Buddy in this year's British blockbuster Baby Driver, will take on the role of archangel Gabriel in the six-part adaptation of the 1990 novel penned by Neil Gaiman and Terry Pratchett.
A self-proclaimed fan of the original story, Hamm said: "I read Good Omens almost 20 years ago.
"I thought it was one of the funniest, coolest books I'd ever read. It was also, obviously, unfilmable. Two months ago Neil sent me the scripts, and I knew I had to be in it."
His character will provide the antithesis to both Sheen's angelic character, Aziraphale, and Tennant's demonic Crowley.
While Gabriel plays a minor character in the book, Gaiman explained: "Once we had finished writing Good Omens, back in the dawn of prehistory, Terry Pratchett and I started plotting a sequel. There would have been a lot of angels in the sequel.
"When Good Omens was first published and was snapped up for the first time by Hollywood, Terry and I took joy in introducing our angels into the plot of a movie that was never made.
"So when, almost 30 years later, I started writing Good Omens for TV, one thing I knew was that our angels would have to be in there."
Commenting on the latest casting, he quipped: "The leader of these angels is Gabriel. He is everything that Aziraphale isn't: he's tall, good-looking, charismatic and impeccably dressed.
"We were fortunate that Jon Hamm was available, given that he is already all of these things without even having to act. We were even more fortunate that he's a fan of the books and a remarkable actor."
Production has already begun on the series by BBC Studios and is due to air for the first time on Amazon Prime Video in 2019, broadcasting on BBC Two at a later date.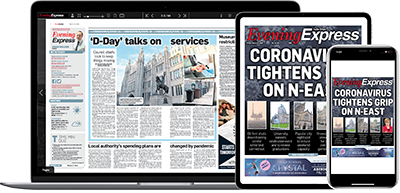 Help support quality local journalism … become a digital subscriber to the Evening Express
For as little as £5.99 a month you can access all of our content, including Premium articles.
Subscribe