The star of a new film about a gay relationship which blossoms on a Yorkshire farm has said it is an "honour" to be compared to Oscar-winning film Brokeback Mountain.
Josh O'Connor plays Johnny Saxby in God's Own Country, the directorial debut from Yorkshire-born Francis Lee which won best British feature at the Edinburgh International Film Festival back in June.
The film sees 24-year-old Johnny numbing his lonely existence looking after his family's dilapidating sheep farm with nightly binge drinking and casual sex.
But, following the arrival of Romanian migrant Gheorghe, played by Alec Secareanu, at the farm for work during lambing season, Johnny suddenly has to deal with emotions he has never felt before.
O'Connor said he understands why people are calling it Yorkshire's answer to Ang Lee's 2005 drama film Brokeback Mountain, which starred Jake Gyllenhaal and the late Heath Ledger as cowboys who fall in love.
O'Connor told the Press Association: "Francis, Alec and I unanimously love that film.
"I love Ang Lee, and I can see why people are uttering it in terms of the farming aspect, and the landscape surrounding it."
But the Cheltenham-born actor, who was named a 2016 Screen International star of tomorrow and has starred in ITV's The Durrells and BBC Two's Peaky Blinders, also points out the dissimilarities in the way the films deal with sexuality.
He said: "I think they're very, very different films, and I think they deal with different aspects of relationships.
"Johnny and Gheorghe I think are quite comfortable in their sexuality, whereas the two characters in that film are not."
God's Own Country has also been called "the first great film of the Brexit era" by The Scotsman, and O'Connor said that, although it was shot pre-referendum, Britain's decision to leave the EU has now become a "huge" part of the film.
"Accidentally, we find ourselves with a film kind of touching on an aspect of immigrant workers post-Brexit referendum," he said.
"I talked about it with Francis and with Alec briefly but only because we were so sure we wouldn't be leaving the EU and that wouldn't be happening.
"I remember Francis calling me when the referendum happened, and he was like 'you realise we've now made a period film.'
"That was really interesting and I think it's a huge part of this film now, accidental or not."
God's Own Country is released in cinemas on September 1.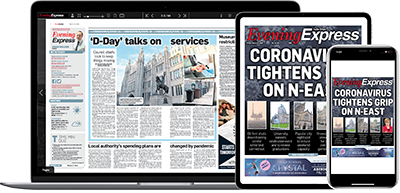 Help support quality local journalism … become a digital subscriber to the Evening Express
For as little as £5.99 a month you can access all of our content, including Premium articles.
Subscribe