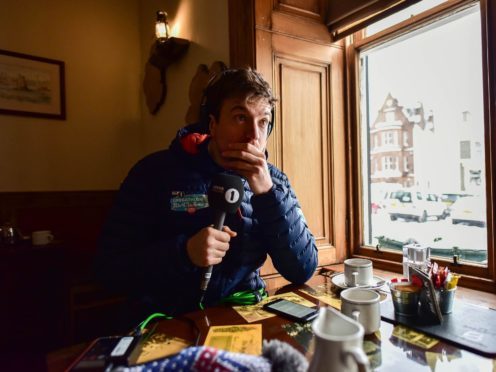 Greg James has vowed to complete his Sport Relief challenge in the future – after atrocious weather forced him to call off his final climb.
The Radio 1 DJ had to suspend his Ben Nevis ascent because of the conditions.
He told BBC Breakfast: "I will 100% get back up to Ben Nevis. I'm so determined.
"We're stranded about 170 miles to the south of Ben Nevis and we will get there at some point to complete it, just because I have to.
"We came so far and cycled so far in that snow and that wind."
The broadcaster, 32, had to suspend the challenge on day four, having already climbed two of three mountains.
He said: "I'm currently stranded in Scotland about 20 miles away from Dumfries. I'm trying to get back to Radio 1 today for my show at 4 O'Clock.
"I'm supposed to be scaling Ben Nevis this morning. I'd already done two mountains and cycled 200 miles to get there.
"And suddenly two nights ago, it … just engulfed the whole country…. so everything has come to a standstill. It's just too dangerous to go out.
"Unfortunately last night, after months of training and build up and half a million quid raised … we unfortunately had to suspend it. It's more safety than anything else.
"It turned from a challenge that was gruelling and physically demanding to one which was potentially life threatening."
He is calling for more donations, having already raised around £560,000 to help vulnerable people across the UK and the world.
James added: "We've made such an impact by doing something really stupid in this weather. And hopefully the conversation will continue after this week."