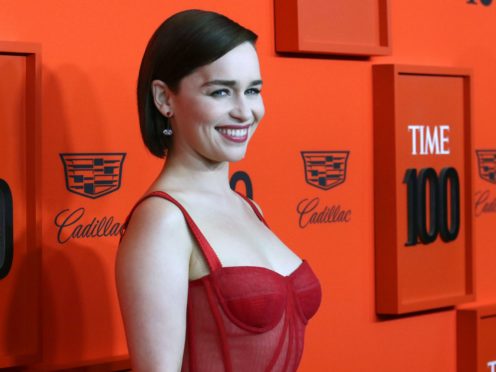 Emilia Clarke has had a laugh at the now infamous Game Of Thrones coffee cup scene.
Fans of the blockbuster show spotted a takeaway cup had been accidentally left in front of Clarke's character, Daenerys Targaryen, on the top table at a post-battle feast.
Now the actress has posted a snap of herself in costume with actors Peter Dinklage and Jason Momoa, while posing with a cup.
"Did I just stumble upon the truth here?!," she joked on Instagram.
"The cup bearer does not drinketh the Starbucks tea… oh and this ain't a spoiler just a lost wanderer coming home for a mid filming cuppa….@prideofgypsies (Momoa) you so fire you make my hair turn blue."
The Mother of Dragons was holding a cup of wine during the scene in the most recent episode, but the cup was left just in front of her.
It appeared for a brief moment as she looked over at Jon Snow (Kit Harington).
A message tweeted on the Game Of Thrones official account previously said: "News from Winterfell. The latte that appeared in the episode was a mistake. #Daenerys had ordered an herbal tea."
Game Of Thrones continues on Sky Atlantic and Now TV on Mondays at 2am and 9pm.