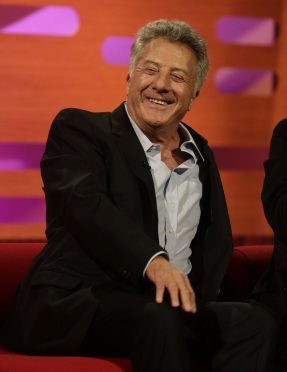 Hollywood veteran Dustin Hoffman has said he would have to live until 132 to feel like he knows himself.
The double Oscar-winning star of Kramer vs Kramer and Rain Man said he might be 80 but is still working on figuring out who he is.
He told the Press Association: "I calculated that I need to live to be about 132, because at that moment I will know myself.
"I have been talking to God about that."
The veteran star revealed he never even thought he would have a career when he was beginning, saying: "I never thought that I would get hired when I was starting out."
"Bob Duvall, Gene Hackman and myself, we were hoping just to make a living, off-off Broadway, off Broadway, we never thought any of this would happen."
The actor will next be seen in Noah Baumbach's new Netflix film The Meyerowitz Stories (New And Selected) in which he plays a sculptor dissatisfied with the level of success he has achieved and a self-involved and negligent father to three adult children played by Adam Sandler, Ben Stiller and Homeland's Elizabeth Marvel.
Sandler, who also starred opposite Hoffman in 2014's The Cobbler, said he feels he's in the same position as the older actor.
He said: "I still have no idea of who I am. One minute I say this and the next I say the complete opposite and I believe them both, I don't really know what the hell the truth is with me yet."
Hoffman joked: "I worked with Adam on a film before this and I thought he was this close to knowing everything about himself and then a year later we are doing this and he has regressed."
The Meyerowitz Stories (New And Selected) will be available on Netflix on October 13.