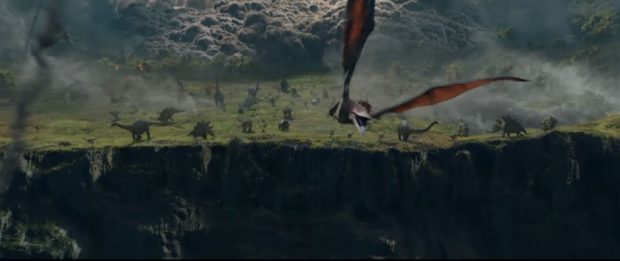 Chris Pratt can be seen running for his life, pursued by a pack of dinosaurs as a volcano erupts behind him, in the first trailer for the Jurassic World sequel.
The footage from Jurassic World: Fallen Kingdom shows Pratt back as Grady and reunited with velociraptor Blue, the dinosaur he raised and trained.
It reveals that Grady has split up from Claire Dearing, played by Bryce Dallas Howard, but is convinced by her to return to Jurassic World to save the dinosaurs, which are under threat from an imminent volcano eruption.
The trailer also shows the return of the tyrannosaurus rex, which kills another dinosaur by biting it in the neck.
It marks the return of Jeff Goldblum as Ian Malcolm, his role in the original Jurassic Park film, who can be seen warning that the dinosaurs may outlive humanity.
As the volcano begins to erupt, Pratt and Howard can be seen running for their lives, followed by hundreds of dinosaurs.
Director JA Bayona has promised the sequel will contain more dinosaurs than ever before.
Fans expressed their excitement on Twitter, with one writing: "Can't get over this #FallenKingdom trailer. Hurry up June!"
Another said: "Oh my! How bloody good does this look. I wanna see it right now!"
Another enthusiast said the footage had trumped even the new Star Wars film for excitement.
"I officially don't care about The Last Jedi at this point. It's all about #FallenKingdom."
Jurassic World: Fallen Kingdom is released in UK cinemas on June 7 2018.