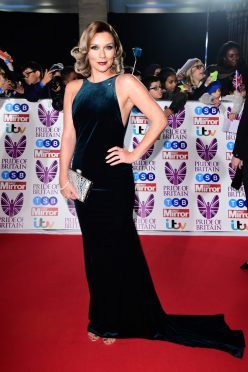 Former Great British Bake Off winner Candice Brown has laughed off a snap of herself sharing a kiss with Paul Hollywood.
The pair were pictured in what was described by The Sun as an "intimate kiss" following an awards ceremony.
After broadcaster Shelagh Fogarty tweeted: "I and three others were at that table and no such 'intimate' thing happened. Fizz was nice tho", Brown replied: "So invisibility cloaks are real. I was so sure you were there all night too!! Stacey Solomon, Shelagh Fogarty."
And she joked: "No kisses or hugs hello or goodbye from now on- handshakes or waves only!"
A spokeswoman for both Hollywood, who is married, and Brown, who recently announced her engagement, said what was pictured was an "innocent kiss on the cheek".
She that it was "untrue" to describe it as an "intimate kiss".
"Following The Daily Mirror Pride Of Britain Awards, seven of us, including Paul and Candice, were seated outside waiting for cars home. The photograph is of Paul saying goodbye to each of us," she said in a statement.