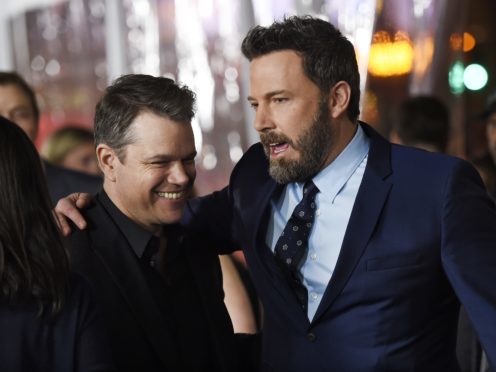 Ben Affleck and Matt Damon will implement inclusion riders at their production company Pearl Street Films to support the fight against inequality in Hollywood.
They follow in the footsteps of Black Panther star Michael B Jordan, who adopted the notion at his production company after Frances McDormand popularised the term in her speech at the Academy Awards.
An inclusion rider is a clause that can be written into a star's contract that demands racial and gender diversity in front of and behind the camera.
Damon and Affleck, who founded their film company in 2012, will add inclusion riders to all projects going forward.
The news was revealed by Pearl Street Films's head of strategic outreach Fanshen Cox DiGiovanni, who tweeted to thank Jordan for first taking the step.
She wrote: "@michaelb4jordan Thank you for always supporting broader representation in the industry.
"On behalf of Pearl Street Films, Matt Damon, @BenAffleck, Jennifer Todd, Drew Vinton & I will be adopting the #InclusionRider for all of our projects moving forward."
The Annenberg Inclusion Initiative, which created the movement, tweeted that Cox DiGiovanni's "leadership in developing and rolling out the inclusion rider" began in February 2016.
"She has been a champion, advocate and co-creator of the rider and we're thrilled that Pearl Street Films is adopting and countering on screen and behind the camera bias with this tool," they said.
At the Oscars, best actress winner McDormand said during her speech: "I have two words to leave you with tonight ladies and gentlemen: inclusion rider."
The phrase inclusion rider was coined by Dr Stacy Smith, from the Annenberg Inclusion Initiative of Californian university USC Annenberg, in a 2016 TED talk she gave titled The Data Behind Hollywood's Sexism.
Between 2007 and 2015, Dr Smith said she analysed more than 800 films and catalogued every speaking character by their gender, race, ethnicity, sexual orientation and disabilities.
Fewer than a third of all speaking roles are given to girls or women, she said, despite women making up half of the population and, when it came to other demographics, there was an even higher imbalance.
The lack of representation among women and minorities amounted to "erasure", she added, in which women are overly sexualised.
She suggested a number of solutions to address the imbalance, including for the most in-demand stars of the day to demand the realistic representation of women and minorities in their contracts because of their influence.
The aim is to give a realistic representation of the world by offering out speaking roles to characters in order to reflect the region where the film was set.