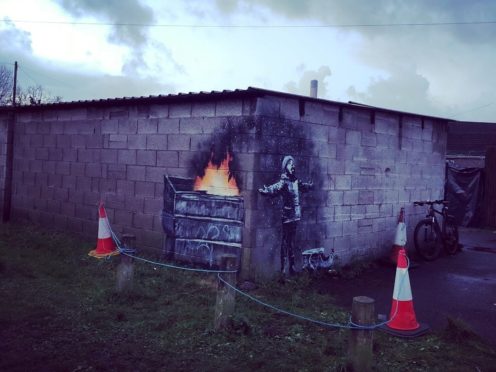 World-famous street artist Banksy is believed to have visited Port Talbot in Wales, leaving a new artwork behind that appears to comment on the town's industrial heritage.
The painting appeared on two walls of a garage in the Taibach area overnight and shows a child playing in the falling ash and smoke from a fire in a skip.
The owner of the garage, Ian Lewis, 55, a steelworker for the town's Tata Steel steelworks, said he first saw the artwork when images began to spread on Facebook on Tuesday evening, and had been guarding it ever since.
The father-of-one said: "At first I didn't really think much of it. I didn't even know if it was my garage. But then I had a look and saw it was.
"I thought it was good, but I didn't think it was a Banksy. It's now gone viral, and there's just been an explosion (in interest).
"I didn't know much about Banksy up until about last year. A friend visited Bristol and she showed me some photographs she'd taken of his work."
Mr Lewis said he thought his hometown was chosen for the artwork due to headlines over air pollution due to the steelworks.
In May the World Heath Organisation had to apologise after it admitted figures identifying Port Talbot as the most polluted town in the UK were wrong.
The global body said Port Talbot's air pollution was measured at 9.6853 micrograms, just under half of the figure it had originally given the town, and below WHO national guideline of 10 micrograms.
Mr Lewis said he had "no idea" what his plans were with regards to the artwork.
On Wednesday afternoon workers for Neath Port Talbot County Borough Council erected metal fencing around the garage wall.
"It's amazing, an incredible addition to Port Talbot," said Rachel Honey-Jones, 33, who lives in The Mumbles on the other side of Swansea Bay.
"Everything about it is political messaging, the way the boy has been drawn, the positioning near the steelworks, the fact it was done just after the (Severn Bridge) tolls went down.
"If it's not Banksy then it's a very similar artist," she added.
The secretive street artist, believed to be based in Bristol, usually posts new work to his website or social media, but the Port Talbot piece has yet to make an appearance.
Black dust from the town's steelworks covered houses, cars and pets in the area in July, a possible inspiration for the artwork.
Residents on social media have been cheered by the addition to their neighbourhood, but Ms Honey-Jones warned that the artwork should be protected by the council.
"People have already taken sledgehammers to it and tried to throw paint on it," she said, referencing an artist friend who was tipped off to the location overnight and stayed to keep guard.
"It will bring visitors and trade and tourism to the county so it really does need to be protected," said Ms Honey-Jones.
A spokesman for Neath Port Talbot Council said: "The Council is sending officers to liaise with the property holder to assist in protecting this artwork.
"However it must be remembered that the artwork is on private property and has not yet been confirmed that the artist is Banksy."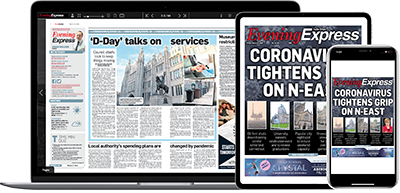 Help support quality local journalism … become a digital subscriber to the Evening Express
For as little as £5.99 a month you can access all of our content, including Premium articles.
Subscribe