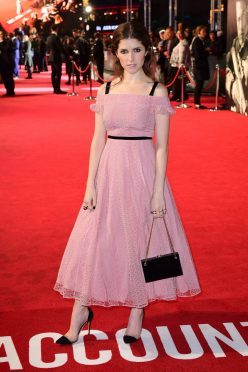 Hollywood star Anna Kendrick says she gets notes "from the top" encouraging her to show more skin.
The Hollywood actress, 32, reprises her role as Beca in Pitch Perfect 3, the new instalment in the musical comedy film franchise.
She told Harper's Bazaar: "It's funny – whenever we do the wardrobe fittings I feel like we get notes from the top saying they should be tighter and sexier and show more skin.
"And I'm like, that's not why people are coming to see the movie. They definitely aren't showing up because of our sex appeal."
She said of the film franchise: "It's nice that audiences are interested in seeing a movie of misfits and girls of different shapes and sizes."
Kendrick has previously complained about inequality in the film industry, saying that she had to "wait for all the male roles to be cast before I can even become a part of the conversation".
But she told Harper's Bazaar that things could be changing, saying: "This year I've done a bunch of movies where I was the first person cast – even if I wasn't the lead character and there was a male lead which was a bigger role – it's just anecdotal, and just this year, but it was nice."