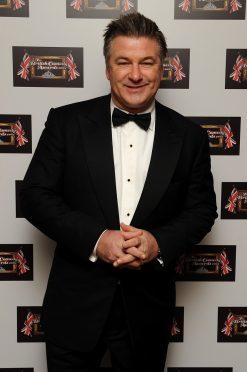 Alec Baldwin has described the disavowal of Woody Allen by some of the stars of his films as "unfair and sad".
The actor, who worked with the director on three films including Blue Jasmine, said it was "one of the privileges of my career".
Some stars have distanced themselves from Allen, who was investigated for the sexual assault of his adopted daughter, in the wake of the sexual harassment scandal in Hollywood.
Baldwin wrote on Twitter: "Woody Allen was investigated forensically by two states (NY and CT) and no charges were filed.
"The renunciation of him and his work, no doubt, has some purpose. But it's unfair and sad to me. I worked w WA 3 times and it was one of the privileges of my career."
He added: "Is it possible to support survivors of pedophilia and sexual assault/abuse and also believe that WA is innocent? I think so.
"The intention is not to dismiss or ignore such complaints. But accusing ppl of such crimes should be treated carefully. On behalf of the victims, as well."
On Tuesday Bafta nominee Timothee Chalamet announced he is to donate his salary from a forthcoming Allen film to three charities, including anti-sexual misconduct campaign Time's Up.
The 22-year-old US actor stars in A Rainy Day In New York alongside a stellar cast including Jude Law, Selena Gomez and Elle Fanning, with the film due for release later this year.
Chalamet announced on Instagram that he would be donating his entire fee from the film to Time's Up, an LGBT community centre in New York and anti-sexual assault organisation RAINN.
Allen was investigated over a 1992 claim by his adoptive daughter, Dylan Farrow, of a sexual assault which allegedly took place at the family's Connecticut home.
Prosecutors elected not to charge the film-maker and he has always vehemently denied the claims.
Rebecca Hall, who also stars in A Rainy Day In New York, has already said she is donating her salary to Time's Up, while Greta Gerwig who worked with him on 2012's To Rome With Love, has expressed regret and said she would "not work for him again".
A spokeswoman for Allen has been contacted for comment.