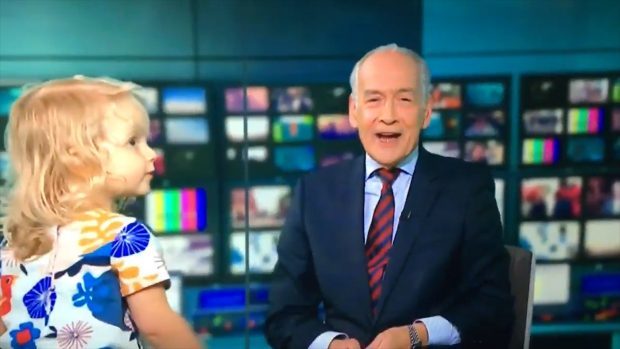 News anchor Alastair Stewart has been praised for keeping his cool as a toddler hilariously took over his live news broadcast.
Stewart was conducting a segment about milk allergies on the ITV Lunchtime News with a mother and her young son and daughter, when the little girl got up and ran around the desk.
She then climbed up on the desk in front of Stewart, often creeping into his shot, for the remainder of the piece.
As the toddler got up to run around, Stewart said that she "will do whatever she chooses to do for the next couple of minutes", before continuing with the interview.
Having stifled laughter while continuing the broadcast, the veteran newscaster joked at the end of the segment: "Mary Nightingale, I think, will have a more peaceful time at 6.30.
"From all of us, a very good afternoon to you."
Viewers were highly amused to see the unlikely takeover of the lunchtime news broadcast, with many taking to Twitter to laugh at the incident.
"Tears of laughter rolling down my cheeks! Feel ITV 1 +1 coming on!!" one viewer wrote.
Another said: "@alstewitn @itvnews dealt with that lunchtime news V well, if anyone needs their day cheering up get on @itvhub now."
"I think that may be my favourite interview on ITV News. Well done Alistair Stewart #ITVNews #ITVLunchtimeNews #Hilarious," one commented.
Many hailed Stewart, with one writing: "Child casually clambering all over the news desk whilst Alistair Stewart gets on with it #itvnews #pro #neverworkwithchildrenoranimals."
"What a professional Alistair Stewart on @itvnews is… carrying on presenting with a toddler climbing all over his desk #hilarious #itvnews," another viewer remarked.
Stewart's contemporaries and colleagues were among those talking about the unexpected TV moment.
Paul Brand, ITV News' political correspondent, tweeted: "TODDLER TAKEOVER! Best lunchtime news ever. Well done @alstewitn for holding fort!"
ITV News' royal editor Chris Ship said: "What happens when mum comes into the studio with the kids. Live on @itvnews. Top work by @alstewitn."
Repsonding to Ship's message, BBC's Today presenter Nick Robinson quipped: "Nice. One of my kids licked the desk when they came in."
BBC News correspondent Ross Hawkins wrote: "Tremendous chaos – @alstewitn being thoroughly upstaged by kids in his studio."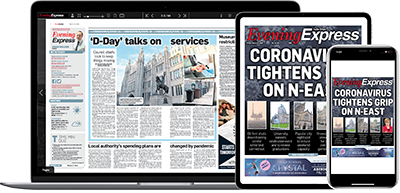 Help support quality local journalism … become a digital subscriber to the Evening Express
For as little as £5.99 a month you can access all of our content, including Premium articles.
Subscribe