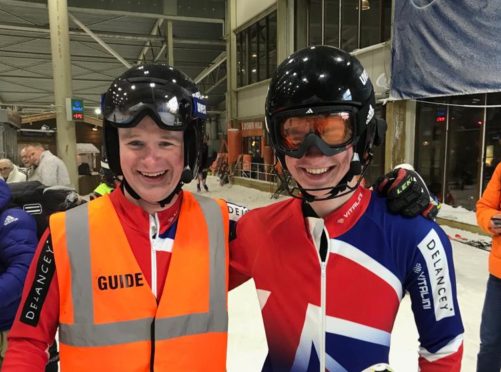 A 15-year-old north-east skier is well on his way to the top after triumphing at his first Europa Cup meet.
Neil Simpson, of Durris, who is visually-impaired and skis with brother Andrew, 16, as a guide, took slalom gold at Landgraaf in the Netherlands yesterday to add to a slalom bronze won on Thursday.
The athlete stars for Great Britain in competition and is the reigning UK champion – and he beat out some top names as he moved up a level in his debut on the Continent.
Neil said: "This is was my first Europa Cup event.
"I had my first race on Thursday – it was still in slalom.
"I came third and then first yesterday.
"Each day we had to do three runs.
"Yesterday I beat Jakob Krako, who's Slovakian, and also Patrick Jensen, who is Austalian.
"They are both top 10 in the world rankings."
Neil's triumph was secured with a total time on 1:32.77 across his three runs, with France's Hyacinthe Deleplace second and Switzerland's Thibault Trancart third.
Deleplace also won silver on Thursday with Krako – disqualified yesterday – taking gold.
Before his season-opening win, which should propel Neil up the rankings from the mid-20s, the talented athlete only thought he had a chance of "getting close" to his big-time rivals – not denying them the top prize.
He said: "I was really happy and chuffed it all clicked together and we skied really well.
"My biggest win before this was the British Championships at the end of last year."
Neil added: "It should help my ranking get higher, so I'm closer to the World Cup level.
"That's one of my aims, to reach that.
"The Paralympics in Beijing in 2022 are a major goal for me.
"That'll be done through training, getting in all the races, doing the World Cup events."
Europa Cup events are every few weeks during the skiing season, and Neil intends to take part in as many as he can to in order to move up the ladder.
In alpine skiing, World Cup events are used to determine who qualifies for the Olympics and Paralympics.
Neil said: "We're trying to do really well in the Europa Cups to get points low enough and reach the World Cups.
"I'm hoping to get it done January-February time.
"I'll be racing against mostly people I've never raced before."
On having his brother alongside him on his sporting journey, Neil said: "It's really good skiing with my brother.
"We've skied and trained next to each other at Gordon Skiers in Alford since about the age of seven.
"It's really helped me."
Neil and Andrew's training mostly takes place in Alford during the summer and at the Lecht in the winter.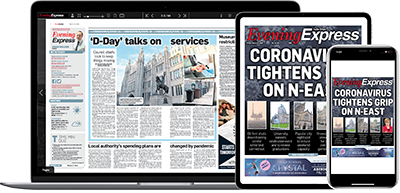 Help support quality local journalism … become a digital subscriber to the Evening Express
For as little as £5.99 a month you can access all of our content, including Premium articles.
Subscribe