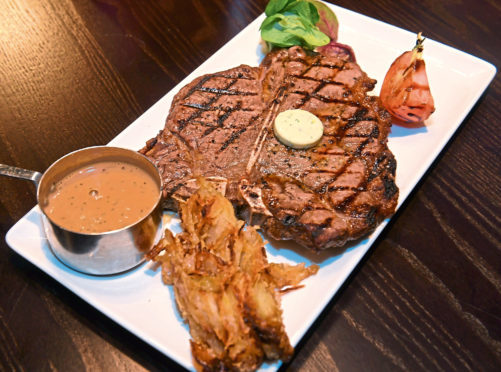 When it comes to top-quality steakhouses, there aren't many around in the north-east.
Some will point to Jack's Steakhouse, on Crown Terrace, and others to Porterhouse near Inverurie, but that is generally where the conversation will stop.
To that end Miller & Carter is a welcome addition to the north-east after the chain opened its first branch north of the central belt.
With the interest around the recently opened eatery, even at 9pm on a weeknight the restaurant was close to full and the atmosphere was lively.
After perusing the menu and deciding I probably couldn't take down the 30oz long bone tomahawk on my own, I opted for the sticky chipotle chicken (£6.95) for my starter.
It came from a choice of delicious sounding options – and narrowly beat the beef and bone marrow bon bons to be my selection.
And it turned out to be a smart choice.
The chipotle chilli-glazed chicken bites, with toasted sesame seeds, served with a dressed slaw, had a delicious, sweet flavour.
I had expected some heat in this dish, but to be honest I couldn't taste any.
However, the flavour usurped my expectations by quite some way – I'd highly recommend it.
For our mains we both punted for the 20oz T-bone steak (£29.95) – for those that don't know, this offers up both sirloin and fillet in one dish.
Served with parsley butter, seasoned fries, a slice of "onion loaf", a tomato, a choice of sauces and a lettuce wedge.
Bizarre as a quarter of an iceberg lettuce might sound it is actually really nice – especially topped with honey mustard and bacon bits.
The only difference in the T-bones we ordered was the sauce.
I opted for beef dripping while my mate went for peppercorn with both our steaks cooked medium rare.
Both sauces were flavoursome and really complemented the meat.
Both our cuts were cooked perfectly and were tasty, tender and delicious.
The sirloin side of the T-bone in particular was an absolute treat.
According to the eatery's management if you want a prime-time slot at the weekend you may need to book up to three weeks ahead.
Perhaps that's down to the buzz of a new restaurant chain coming to the city, but with the quality of food on offer don't be surprised if it manages to retain that high level of custom for sometime to come.
In all honesty, I can't say Miller & Carter is as good as Porterhouse at Thainstone – but it is cheaper and more convenient if you live in the city and want a drink with your meal.
Despite falling short of the Porterhouse's high benchmark it is a very good restaurant with great food.
The staff were excellent, too.
Attentive, friendly and the speed of service was first class.
Sitting down at 9pm we left the restaurant at 10.05pm and in no way felt rushed.
But the quality of the overall experience is reflected in the price – more than £70 is not cheap for a meal out, even if it does feel worth it.
One other thing to mention is the difference the restaurant's recent opening has made to this particular corner of Union Street.
I can't actually recall E&Ms ever being open, but to see the building buzzing, bright and welcoming really lifts this particular part of the Granite Mile.
---
What we had
Sticky Chipotle Chicken T-Bone 20oz x2
Pepsi
Lemonade
How much it cost
What we thought
Miller & Carter is a nice addition at the heart of the city.
The food is very good – and it should be for the price. Because of that it's certainly not somewhere most folk could afford to eat every month, but certainly nice for a special occasion or treat.
The restaurant is well decorated and welcoming and the staff are really excellent – and know their stuff when it comes to steak.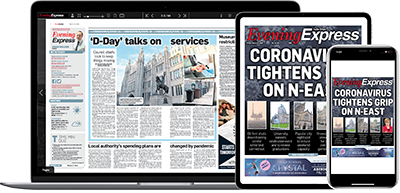 Help support quality local journalism … become a digital subscriber to the Evening Express
For as little as £5.99 a month you can access all of our content, including Premium articles.
Subscribe