Morrissey fans camped outside the AECC the night before the show to guarantee they would be as close to their idol on stage as possible.
While dozens of other fans decided to stay in the comfort of their hotel across the road, a group of supporters spent the evening outside to start queueing up for the show.
Michael Isgate, a Southern Water employee, travelled all the way from Worthing, near Brighton, to see his favourite artist.
He left his home at 5.30am on Thursday and arrived at 10.30pm, before sleeping outside the venue in his sleeping bag.
He said: "My night was cold and uncomfortable, but it will be worth it.
"I go to every show, money and work allowing, and for this tour I will be at 10 out of 11 shows."
Not far from him, 26-year-old Lucy Wood travelled from Edinburgh and had also been camping outside since midnight the night before.
She said: "This is the 82nd time I've been to see him and I am still so excited."
The fans were lucky enough to briefly see Morrissey as he got off his tour bus, which, to them, made it even more worth the wait.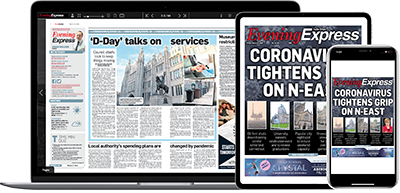 Help support quality local journalism … become a digital subscriber to the Evening Express
For as little as £5.99 a month you can access all of our content, including Premium articles.
Subscribe