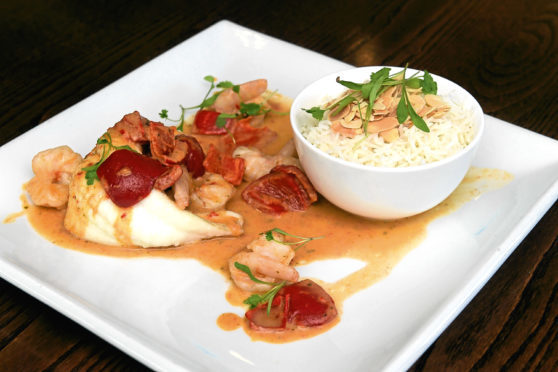 I have for the longest time enjoyed sampling pre-theatre dinners.
They offer great value for money and are quite simply a brilliant way to enjoy fast food without compromising on taste.
I've eaten my way around every restaurant in Aberdeen which offers this service – all bar one.
Ironically, that place is 1906 at HMT – the only place in Aberdeen to offer the full in-theatre restaurant experience. So go figure!
As the wind howled a gale outside, my mum and I were glad to find ourselves cocooned in the warmth of this cool, contemporary restaurant.
We were promptly ushered to our seats by a friendly waitress, despite the restaurant already being almost full to capacity.
Drinks orders in, we perused the no-fuss menu as we both enjoyed watching the sun set over Union Terrace Gardens. This prompted our conversation for the duration on how we enjoyed the gardens in their heyday, and our hopes that its restoration to those glory days are not too far off in the distant future.
The menu offers a choice of four starters, two platters, four main courses, three sweets and a cheese board.
Some may prefer more choice from a menu but, for us, it only made our decision all the more simple.
My mum thought the tomato and ginger soup starter would warm the cockles and help thaw her out.
I swithered between choosing the sweet potato and harissa bon bons or the braised pork belly and black pudding salad for my starter. But I am a sucker for black pudding and can never resist ordering it.
Mum loves a nice piece of fish, so she settled for the grilled lemon sole, king prawns and coconut curry for her main, while I plumped for the pumpkin-filled gnocchi.
Mum's soup came served with crusty bread which by all accounts was still warm – much to her approval. The soup too was very fresh and you could tell it was made from fresh tomatoes … it was so thick you could stand a spoon upright in it. The ginger flavouring was not initially evident, but it left a hint of heat and kick in the aftertaste.
My starter looked like a work of art. Cubed pieces of black pudding adored each corner, while a good-sized portion of pork belly was the central feature. I can be a bit 'funny' with pork belly. It's often a hit or a miss with me. I really enjoy it when it has a crisp layer, but this offering was a braised version so it did not. However, it was cooked to perfection, and I particularly appreciated there was hardly any fat on it. This dish was definitely the star of the show for me.
Two empty plates told our waitress all she needed to know when she inquired as to our enjoyment of both dishes.
My pumpkin gnocchi dish was sweet and filling, and the moreish dumplings had a lovely bite. The accompanying ragout sauce it was served in was super fresh and bursting with tomato flavours. But the mass of rocket it was served with I could have done without.
Mum's lemon sole was a tad on the small side. At a cost of £16.95 you would expect more. Regardless, mum enjoyed it, and the dish also came served with four succulent juicy prawns in a lovely coconut curry sauce. The basmati rice had flakes of almond, and was both fluffy and light, and she happily lapped it up with the tasty creamy sauce.
With no room for a pudding, I opted out from the dessert menu, but mum said her spiced sticky toffee carrot cake deserved an encore!
---
What we had
Tomato and ginger soup Braised pork belly & black pudding salad Pumpkin filled gnocchi Grilled lemon sole Spiced sticky toffee carrot cake how much it cost
£60.35 (including drinks).
What we thought
Fine dining at its best, full of character, flavour and style. Contemporary yet understated.
A particular attractive feature is the full-fronted glass exterior which offers views over Union Terrace Gardens. Also worthy of note is the black and white prints of actors in varying poses which adorn the walls of the restaurant.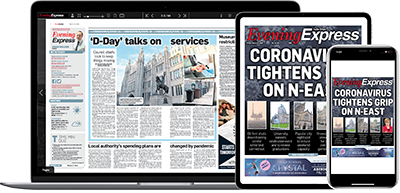 Help support quality local journalism … become a digital subscriber to the Evening Express
For as little as £5.99 a month you can access all of our content, including Premium articles.
Subscribe