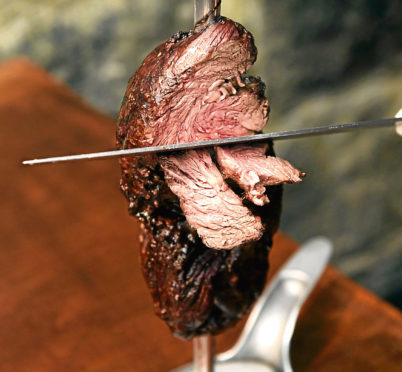 Hungry and craving steak we made the decision to head to all you can eat meat emporium Hey Brazil.
For anyone unfamiliar with the concept, waiters bring different cuts of beef, chicken, lamb and everything and anything else to your table and carve it fresh on to your plate.
With a simple card that flips from red to green waiters know when you are ready for more grub.
Briefly heading to the buffet before the flow of meat started to head to the table we loaded out plates up with salad, rice and potatoes.
Nothing on the buffet makes you go "wow" – but at the end of the day it's all just sides to the main event and it's a solid selection of accompaniments.
First of all chicken wrapped in bacon arrived at our table and we were both keen to sample.
The meat was lovely and moist and there were no complaints – it was no steak though … that was yet to come.
Next up on the relentless parade of meat came Brazilian sausage – one of the best offerings of the night.
Flavour-packed and succulent we made sure seconds arrived at the table shortly after.
The next meaty offering was beef skirt. If you've never tasted this particular offering it's delicious – absolutely packed with flavour and cooked perfectly.
Not too far off in the flavour stakes was the next delight to arrive at the table – rump.
And the slices carved on to our plates would happily have passed for part of a steak dinner in many restaurants.
The only downbeat moment of the whole meal came in the chilli chicken.
This wasn't my favourite dish out of the selection – unlike the chicken wrapped in bacon, it was a little dry for my taste.
There was some flavour punching through from the chilli but little to no heat.
Next up, however, came the pork ribs and they more than made up for the chilli chicken.
Large succulent ribs they were pretty satisfying – juicy and filling – and more than enough to redeem any damage done by the chilli chicken.
I'm unsure if the final "cut" of our evening is a Brazilian dessert or where it comes from – but it's an absolute winner.
Pineapple covered in cinnamon and sugar and roasted.
Delicious, sweet and moreish … there might just be a reason for vegetarians to rock up here after all.
Given the nature of the restaurant and the meal, service needs to be quick at Hey Brazil, lest you be left with an empty plate. The staff are efficient, chatty and attentive – they help create a lovely, welcoming atmosphere.
On the night we were in the eatery was around half-full and there was a nice buzz around the place.
One thing worth noting is prices do vary through the week. Go on a Monday or Tuesday and you'll pay £19.95, Wednesday to Friday and it's £22.95, Saturday £25.95 and Sunday £22.95
If you do venture to this wee slice of South America in Aberdeen, just make sure you're hungry…
What we had
Rodizio Wed-Fri x2
Magners x1
Pint Coke x2
How much it cost
£56.10
What we thought
Hey Brazil offers plenty of selection with the added bonus of feeding you until you can eat no more. The meat was cooked perfectly and was full of flavour. The staff are excellent and attentive, helping to create a great atmosphere.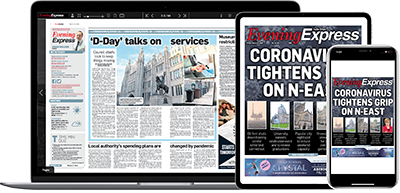 Help support quality local journalism … become a digital subscriber to the Evening Express
For as little as £5.99 a month you can access all of our content, including Premium articles.
Subscribe