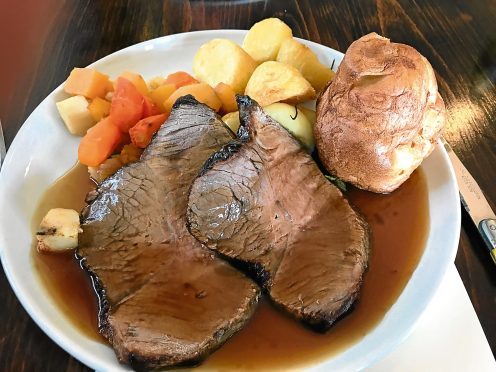 They do say location is vital when it comes to running a successful restaurant.
In which case the Banchory Lodge Hotel is a winner even before you set foot over the door.
The approach down a tree-lined boulevard is magnificent at this time of year, as nature puts on its own fireworks show of yellow and golden leaves, drifting gently to the ground.
Then there's the view from the hotel itself, that perfect point where the Feugh meets the Dee in a rush of tumbling waters, framed by the hills behind. It's almost the perfect spot, a feast for the eyes and the soul.
But we were out to have a feast for our taste buds with a hearty Sunday feed.
We had booked and were delighted to be shown to a table for two in the elegant dining room, with that view framed in a big picture window for us to enjoy.
The brunch menu on Sunday has more choices than you can shake a stick at, from the eye-catching Lodge Big Breakfast, through to burgers and mac and cheese, via fish and chips, all the way up to Sunday lunch.
It was the latter which caught our attention. The autumnal chilly weather, combined with the lounge's roaring log fire demanded roasts. So that's what we demanded, too,
It was Scotch beef for Mrs B and half roast chicken for me.
And, as I was designated driver, Mrs B stepped out with a hearty Malbec to go with hers.
When our plates arrived, we just looked at each other and grinned. This was a mountain of inviting food, just begging us to get stuck in.
Which we did, then paused. We had hit a hurdle with the veg … all of which was lukewarm, some to the point of being cold. When a friendly waiter asked how things we were, we pointed this out and the lot was whisked away without question.
When it arrived back, equilibrium – and heat – was restored.
My chicken was a masterclass in how to roast a bird. It was the perfect golden colour, the crispy skin giving way to tender and moist breast and leg. All of it came off the bone with little fuss, aided and abetted by a delightful light gravy. It was so nice, I would have liked some more, possibly in a sauce jug so I could top up as I wished.
The skirlie it came with prompted memories of childhood and cold winter nights driven away by the rich, salty side dish.
Meanwhile, Mrs B was working her way through two hearty cuts of tender beef. Cooked just right, the jus it came with added depth to an already delightful dish.
The homemade Yorkie was light and airy and was put to good use soaking up juices.
On the veg front, both dishes came with a heap of turnip, swede, carrot and red onion. It was a bit tattie tastic with both rich and creamy whipped potato and crispy roasters. No complaints there, though.
True confession times. I rarely can't finish a plate of food. This one defeated me, such was the quantity.
That still didn't stop us sharing a sticky toffee pudding with ice cream, though, the sweet treat a perfect coda to the rich mains we had enjoyed.
We had a bit of a wait for the bill – service was on the tardy side – but were soon on our way back up that glorious drive, too full to do much more than head home and hit the couch for a lazy Sunday afternoon.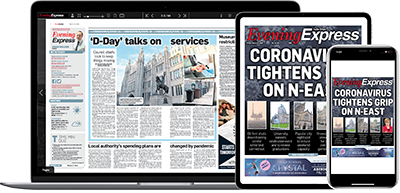 Help support quality local journalism … become a digital subscriber to the Evening Express
For as little as £5.99 a month you can access all of our content, including Premium articles.
Subscribe