There's a chance to extend the festive feeling when a Christmas classic arrives in the Granite City next week.
Scottish Ballet is set to bring the magic of The Nutcracker to His Majesty's Theatre from Wednesday to Saturday.
This version of one of the most loved pieces in the classical dance world was devised by Scottish Ballet's founder Peter Darrell.
Scottish Ballet's artistic director, Chris Hampson, said: "It is always a pleasure to bring Peter Darrell's The Nutcracker to the stage.
"This production has been at the heart of Scottish Ballet since the 1970s and has been delighting generations for decades."
The Nutcracker, with a luscious score by Tchaikovsky, premiered in St Petersburg in 1892.
It tells the story of a young girl, Clara, as she drifts off to sleep on Christmas Eve. During her dream, she meets a prince, is confronted by a battle of large mice and rats and finds herself in the land of sweets.
Dancer Andrew Peasgood, 29, takes the challenging role of Prince. He said: "The Nutcracker is something I grew up with, that one show I have been around since I was 11.
"I really enjoy several different versions and interpretations of The Nutcracker which keep it very fresh. In this current version, the dancing is so beautiful and traditional."
The show is accompanied by the Scottish Ballet Orchestra. Andrew, who was born in Lincolnshire, thinks live music adds another dimension to the show.
He added: "When you watch a ballet and you hear the music … it is great but it is so different when you have a live orchestra.
"The sound and the acoustics are fantastic. No speakers can replace orchestra."
Andrew says The Nutcracker is a very family-friendly show and he says children will not struggle to follow the story.
There will be many youngsters on stage as well. He said: "In Aberdeen, we will have young performers from Danscentre with us. It is a really fantastic opportunity for them. We want to inspire them and help them."
Andrew, who was promoted to a principal with Scottish Ballet last month, started dancing when he was just two years old.
He was influenced by his sisters who went to dance classes when they were young and his grandmother, who was a contortionist and tightrope walker in the circus.
Andy said: "When you arrive at ballet school, your full day is focused on your education and dance training.
"When you are doing ballet every day, you know you are doing it for a reason. It stops being a hobby."
Andrew remembers the moment when he realised he wanted to dance professionally.
He said: "There is a ballet called Onegin and when I saw it I was completely blown away.
"I loved the way the guy lifted the ballerina. And after seeing that I was like 'Yeah, this is what I want to do and I need to keep working, keep pushing'."
Andrew hopes he will still be delighting audiences with his dancing in five years' time.
He added: "I see myself at Scottish Ballet doing what I am doing now, tackling new reps, performing roles that come into the company and personally improving my standards."
Andy hopes North-east folk will grab the chance to see The Nutcracker at HMT. He said: "The Nutcracker is a great story to experience live. We have a brilliant set so the visual experience is amazing."
Anyone who wants to learn more about ballet can do so at Talk Ballet Dance next Thursday at 6.30pm and Talk Ballet Music next Friday at 6.30pm, at HMT. Contact the box office to book.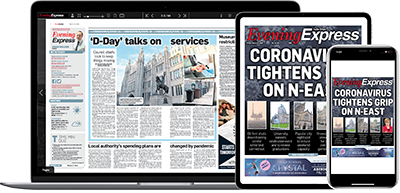 Help support quality local journalism … become a digital subscriber to the Evening Express
For as little as £5.99 a month you can access all of our content, including Premium articles.
Subscribe