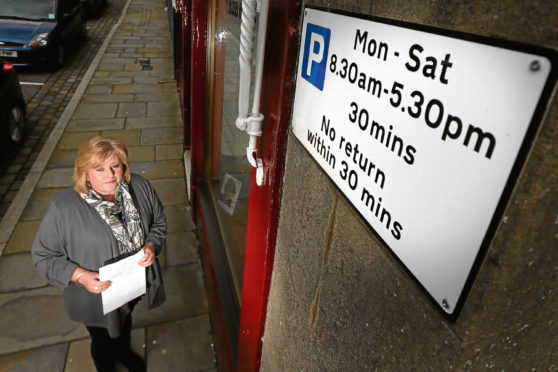 More than 5,000 people signed a petition opposing Angus Council's parking charges plans.
The Save Our Shops petition demands the local authority allows half an hour grace period to assist local shops and businesses when parking charges are reintroduced later this year.
Brechin Community Council chairman Jill Scott, who set up the petition a month ago, said almost 4,200 people had signed online and hundreds more had completed paper copies.
She said the strength of feeling in Angus was clear within people's comments on the petition.
"People are really, really angry about parking charges coming back," she said.
"They are saying they can't afford the charges. Businesses are desperately worried about how the town centres are going to survive, how they are going to manage.
"All this is going to do is push people towards the supermarkets where you can park all day for nothing.
"At the end of the day people are going to lose their jobs when town centre businesses find they have less trade.
"I was speaking to some people who work in a shop on minimum wage, and they were saying that spending £80 to £100 a month on parking was going to make it not worth their while coming to work.
"The questions in the consultation are asked are worded in such a way that Angus Council will achieve its ambition," she added.
"I call into question the integrity of those involved in devising this proposal and for allowing a shambolic demonstration of ineptitude in the form of this consultation."
Mrs Scott, noted that neighbouring Aberdeenshire Council had tailored parking charges for different towns, with an hour of free parking in some towns and half an hour's grace period in others.
An Angus Council spokesman said the findings from the consultation would be reported to councillors along with recommendations for the scheme's implementation and plans for communication of the changes ahead of the start date.
He added: "Angus Council has approved the reintroduction of parking charges.
"We have opened a consultation with residents about how the charges will be administered and very much welcome the constructive involvement of as many Angus citizens as possible in this process."
Opposition SNP group leader, Councillor Lynne Devine said: "Having promised consultation, they announced the income they expect from parking charges months before the start of consultation, not leaving much room for manoeuvre.
"The finance spokesperson for the administration never tires of declaring that his administration's priority is support for businesses, yet they have carried out no town centre economic impact assessment prior to announcing their charging plans.
"It absolutely beggars belief, but only adds weight to the general level of incompetence we expect from this ruling administration."
"Although fifteen minutes free parking is suggested in the consultation document, we would like to see a sensible free parking period to protect our fragile high streets and will be pushing for 30 minutes' free parking.
"We will also be asking more questions regarding costs and expected income to satisfy ourselves that everything has been done to be as fair as possible."