A young fan who was brought to tears when Kimi Raikkonen crashed out of the Spanish Grand Prix got to meet his hero following the race after the Finnish driver's Ferrari team answered calls made on social media.
The smiles just keep getting bigger and bigger… Nice one, Kimi ? #SpanishGP ?? #F1 pic.twitter.com/Ywqru5IFlX

— Formula 1 (@F1) May 14, 2017
Six-year-old Thomas Danel, from Amiens, France, was spotted crying on television after Raikkonen's race was ended by a first-lap collision with Red Bull's Max Verstappen.
https://twitter.com/F1/status/863727667065049088
Seeing Thomas in distress, many Formula One fans came forward to show their support for him.
Kimi's crying young fan. Someone give him a hug! What a boss. #F1 #SpanishGP

— Alternative F1 (@theAltF1) May 14, 2017
IM CRYING FOR THAT LIL KID @ScuderiaFerrari

— سحر (@Sehr_f1) May 14, 2017
After seeing the response to Thomas's sad moment on camera, the Ferrari team responded by inviting him into their hospitality suite to meet Raikkonen – a response which was warmly received across the world by fans and media involved in the sport.
https://twitter.com/LaF1SurCanal/status/863747702475108352
The 2007 world champion, 37, gave Thomas a pair of his racing boots. Thomas also joined the Ferrari mechanics beneath the podium to watch Raikkonen's team-mate Sebastian Vettel receive his trophy for finishing second behind race winner Lewis Hamilton.
So the kid crying in the stands gets hooked up and gets an autograph and pic wit Raikkonen. Well done #F1 that's great stuff #SpanishGP

— Tim Hauraney (@timhauraney) May 14, 2017
The little kid who was crying over Raikkonen is now in the Ferrari hospitality with him – I love F1 ❤️

— Sophie Barker (@SophieBarker21) May 14, 2017
"This has been the most fantastic day for us," Thomas's mother Coralie said. "We could not believe it when they came to get us and took us to Ferrari.
"This is great for fans like us. It really makes F1 and all of its people come alive."
Although Thomas was seen looking sad as Raikkonen went out, it seems he's a Ferrari fan through and through and it wasn't all tears in the stands for him – here he is after Vettel passed Hamilton's Mercedes teammate Valtteri Bottas on lap 25.
Lap 1/66: Kimi out ?
Lap 25/66: VET passes BOT ??

?#SpanishGP ?? #F1 pic.twitter.com/vdrz3j2Utn

— Formula 1 (@F1) May 14, 2017
There's the smiles.
As for smiles from the racers – those were largely for Mercedes' Hamilton.
A heart-thumping meeting in Barcelona finished with the 32-year-old taking the 25 points, raising him to within six points of top-placed Vettel, 29, who has 104 points at the top of the Championship standings.
Red Bull's Daniel Ricciardo finished third.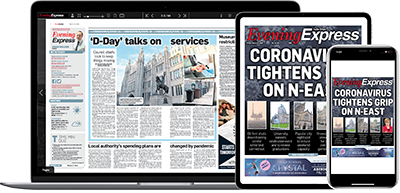 Help support quality local journalism … become a digital subscriber to the Evening Express
For as little as £5.99 a month you can access all of our content, including Premium articles.
Subscribe