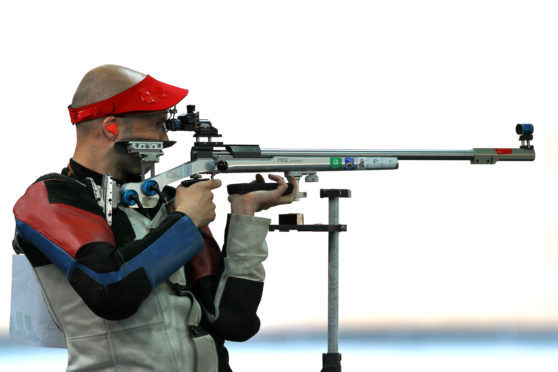 Aberdeen shooter Neil Stirton is "up to his eyes" with his own business – but he's still got his sights trained on glory for Scotland in the Gold Coast Games.
Stirton, 37, who lives in Mannofield, runs his own technology company and has been juggling work commitments in Edinburgh, while trying to train four times a week in the Central Belt.
He will attempt to win the 50m prone rifle and 50m three position rifle Down Under in April, in what could be his last Commonwealth Games, as shooting is currently not on the roster for Birmingham 2022. He has no plans to retire yet, though.
Bon Accord Small Bore Rifle Club's Stirton has tasted Commonwealth success before in pairs competition – a variant which is itself no longer on the Games roster. He took home a silver medal from Melbourne 2006 with partner Martin Sinclair in the 50m prone pairs
In Delhi eight years ago, Stirton and Jonathan Hammond took gold and bronze in the same event and the three position variant respectively, at a competition where shooters won over a third of Scotland's medals.
Stirton said: "Everybody is down to individual events now.
"In Glasgow I was in the final for both. I narrowly missed out on the three position – I was fourth.
"In the prone, what's happened is they've changed the format. The final is a knock-out, which it didn't used to be.
"That's why, in 2014, you probably saw a slight shift in the results.
"Things are going well in training at the moment. I'm giving my all, shooting four hours a night, four nights a week.
"In the Commonwealths most people are amateurs, and it's finding a balance between getting the training in and working as well."
But what does training consist of for an elite shooter like Stirton?
He said: "We do all sorts of drills and techniques. As you can imagine in any sport, you're talking about fine, fine deltas between first and eighth place. I've lost a medal before by less than one millimetre.
"At 50 metres away, you're talking about being able to control your body.
"You've got to be able to have that rock solid position and understand what your body's telling you – you're not tensing up and making sure that you're absorbing as much of the recoil (as you can).
"When we're training we'll repeat, repeat, repeat, until it becomes just instinct. You're doing it without even thinking, you're training those motor skills in."
An example of a drill Stirton does is a "step test", where he'll be timed to hit a certain number of 10.0s, then 10.1s, all the way up to 10.9s – shooting's maximum score for a shot.
The aim of this is to build experience and attention to detail under pressure – the same pressure Stirton will be under in Gold Coast.
However physical training aside, the shooter, who heads for Australia on March 26 for a holding camp in Sunshine Coast, north of Brisbane, to acclimatise, compares his sport to golf in its mental elements.
He said: "You take a shot and you've got time to think and analyse it. If it was a bad shot, you try and take the feedback from your body, the wind flags and try and work out 'ok right, I didn't do that quite right, let's make sure the next shot is a good shot'.
"You've got to flick your mind back into the 'okay next shot' positive and really focus on doing things right."
Stirton has been shooting internationally for 19 years now and over this time has worked with sports psychologists and tried various different techniques, and what he calls "coping strategies" to keep his thinking right when the going gets tough.
He said: "If things aren't quite going right, we might have two or three trigger words. In your head you go 'less shoulder tension, cheek piece and trigger control'.
"Something like that. Three things that are in your mind that attribute to a bad shot usually for me.
"You go back to basics to check 'am I doing this right?' 'am I doing that right?'
"You'd think when you've done something for so long (your technique would become consistently perfect), but if I use the analogy of driving, how many people pick up bad habits over 20, 30, 40 years.
"It's never going to be perfect, so that's why I have these checkpoints. So I can fix it for the rest (of my shots) and go again.
"There is a lot of mental stuff which goes on behind competing and that's true for any sport at a high level."
Stirton's expertise at dealing with elite competition is clearly respected by Team Scotland bosses, who asked him to speak to the rest of the team at the kitting out day a few weeks ago about the importance of acclimatising and getting in the right frame of mind before the Commonwealths get under way proper.
He's looking forward to getting out to Australia now, and especially being around athletes from other sports when they win medals for Scotland.
He said: "Team Scotland has got to be one of the best teams I've competed for.
"The Scots are really friendly and patriotic.
"Getting to know people from other sports is a huge boost to your morale and when somebody from another sport wins a medal and you're all in the village and the news goes round, you can really feel everyone getting psyched up for doing it for Scotland and their country.
"I've seen that at the last few Games and it's really an amazing and proud feeling."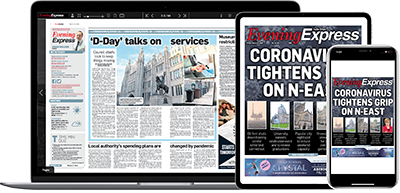 Help support quality local journalism … become a digital subscriber to the Evening Express
For as little as £5.99 a month you can access all of our content, including Premium articles.
Subscribe