A trials biker hopes to follow in the footsteps of Scottish stunt star Danny MacAskill, after honing his skills in urban environments around the North-east.
YouTube videos posted by film-maker Adam McGuire show Joe Urquhart, 18, performing impressive tricks in – and on – some of Aberdeen city centre's most recognisable places.
Westhill's Joe only took up the sport four years ago, buying his first trials bike after watching footage of MacAskill and other riders online.
Joe, who studies electrical engineering at college, said: "Before I had a BMX or mountain bike, but it was just mucking about with friends. Nothing too serious.
"Riding to school, doing little jumps and that kind of stuff.
"Not big jumps, just tiny little kicker things."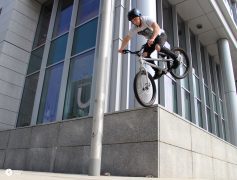 Joe said his idea of what he could achieve on a bike all changed when told about MacAskill's feats.
He said: "I was told about him and searched for him on YouTube.
"Then I got to know about other guys from Scotland and England. People like Duncan Shaw and Ali Clarkson (both Scots).
"I kept watching them for just over a year and that's when I eventually wanted to get my own bike for trials biking."
The effortless tricks Joe is now able to perform weren't straightforward to learn. He said he put the bike away at one stage after growing frustrated at his lack of progress.
However, finding inspiration once more in videos of the discipline's brightest talents, he refocused himself on what became a remarkable four-year development in his abilities.
He said: "I feel it came from me going out by myself with my headphones, not thinking too much about how to do things.
"I'd just naturally try it and, because I was by myself, I'd be able to realise 'I'm doing this better without having to speak or deal with anyone else who is there'."
Now, Joe can balance on just his back wheel and jump his bike between gaps in walls and on to objects over a metre high. He can also cycle along the top of railings looking more at ease than most people do cycling on the pavement.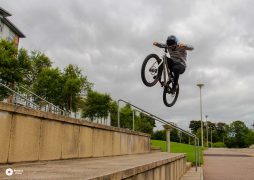 He said: "That probably took two and half years. After one year I was still on my first bike and with that it was still kerb-height tricks and on little small ledges no higher than 50 centimetres.
"Just trying to drop off those straight and wheelie off them. Eventually I tried to incorporate spinning off of things, which was something I'd always seen in a lot of videos.
"At two years, I was able to do exactly what I wanted with spins. I was 360-ing on my front wheel off things higher than a metre, and that's when I thought 'I'm comfortable with that, I want to do more trials-based tricks'.
"That's more a freestyle (using any environment or surface you come across) type of trick.
"After that I was able to use handrails, higher walls, gaps from one wall to the other type of thing. That was the two-and-a-half, three-year period.
"That's when I wanted to do some of the bigger, technical, more scary stuff."
Joe said he finds himself most nervous when tricks involve "gapping" – jumping across a gap from one object to another – from a wall on to a railing. Walls are made for tyres, with a wide, rough surface, but railings aren't.
He said the fear is his bike slips off the smooth metal and he's sent tumbling to the ground, although he has never had any injuries which have put him off the sport.
"I've luckily not had anything too serious with trials biking. I've ended up in hospital a couple of times," Joe said.
"One time I got the bars put under my ribcage. the fact I was having to get an x-ray scared me.
"It made me think I should watch what I was doing, but nothing's actually happened that's put me completely off or made made me ask 'should I stop doing this?'"
In Aberdeen, the trials biking community is quite small, according to Joe, with only three or four riders at one time.
Usually, it's just him and Adam – a rider with a talent for photography and video, who records Joe's incredible antics.
They often travel to places like Arbroath or Inverness to find new backdrops for their stunts, which they post on Instagram. However, they do most of their work in Aberdeen, with the St Nicholas Centre roof garden and top of the Gallowgate car park favourite spots.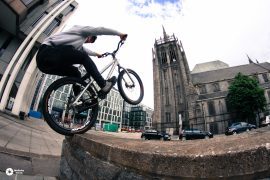 Joe's eventual aim is turn his hobby into a career, using his sport to promote businesses and product in the way MacAskill has.
He also wants to continue riding for The Clan Cycle Stunt Team. "Some people in that team are doing it professionally and some are doing other things," Joe said.
"I made it to that two years ago. Doing shows with them throughout the summer season.
"I want to carry on with that for as long as I can."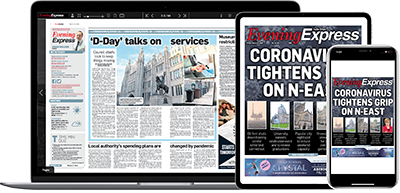 Help support quality local journalism … become a digital subscriber to the Evening Express
For as little as £5.99 a month you can access all of our content, including Premium articles.
Subscribe