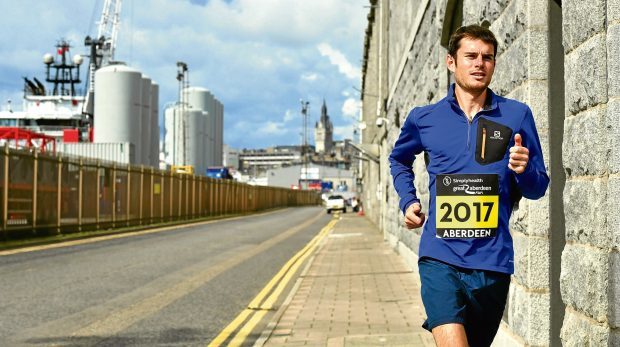 After racing in France and Scotland either side of the New Year, Robbie Simpson is now in Spain preparing for the Commonwealth Games in Australia.
It has been a hectic spell for the globetrotting 26-year-old Banchory athlete who will represent his country in the marathon at Gold Coast in April.
He competed in the Corrida Internationale De Houilles 10km in Paris on Hogmanay before dashing home to run in the Lumphanan Detox 10km less than 48 hours later.
Simpson met with mixed fortunes in his races, performing below expectations in Paris before bouncing back with a record-breaking run on his home patch.
The Deeside Runners club member had set a personal best time of 29min 22secs in the French race in 2016 and hoped to do better, but on a windy afternoon he clocked 30min 46secs for 24th position.
Another Scot, Giffnock North's Luke Traynor, was 11th in 29:29 while Simpson's Commonwealth Games team-mate Callum Hawkins (Kilbarchan AC), who was fourth in the 2017 world marathon championships, was 12th in 29:33.
Swiss-based Frenchman Julien Wanders recorded 28:02 to pip Ethiopia's Jemal Ymer Mekonnen by one second.
Simpson said: "I was really disappointed with my run in France. I'm not exactly sure what went wrong but after the first mile my legs felt empty and I was struggling to stay with the group.
"Then I was on my own and running into the wind, and I just slowed down. After 5km I thought I might not even finish but towards the end I had a guy to run with and that gave me a bit more focus.
"My training has been going well and I thought I was in good shape. So I had to find out whether Sunday was just a blip or something more worrying.
"I thought I'd run at Lumphanan and decided if it didn't feel right I'd just treat it as a training run, but if I felt good I'd go for the record."
Simpson led from start to finish and crossed the line in 31min 13secs to slice four secs off the previous record he had set four years earlier.
It was his seventh win over the past nine years in the race which attracted a record 438 finishers.
Simpson said: "I am delighted to get the record especially after doing the 10km in Paris on Sunday and not getting much sleep with all the travel back here.
"It has given me a bit of a lift after the disappointing performance in France. But I'm now going to sit down and work out my training plan from now until the Commonwealth Games.
"I'm going to be based near Alicante for the next month. I'll have some guys to train with and there are lots of good running trails and a track."
Simpson hopes to compete in the Media Villa de Getafe half marathon near Madrid at the end of January. It's a venue he is familiar with, having set a personal best 1:04:40 when finishing second there in 2017.
He said: "I'm also hoping to do London's half marathon in early March as that comes at a good time before the Commonwealth Games."
Simpson's girlfriend, Ginie Barrand, an Aberdeen-based Frenchwoman, performed well in the Paris 10km, recording a time of 37:33 to show she is getting closer to her best again after a spell of injuries.
The Metro Aberdeen runner was 33secs slower than she ran the year before but was satisfied with the result.
She said: "Considering I have missed a lot of training this year, I am happy.
"Conditions were much better the last time I did this race so to get so close to the time I did has to be good. I hope I can continue to improve from here."