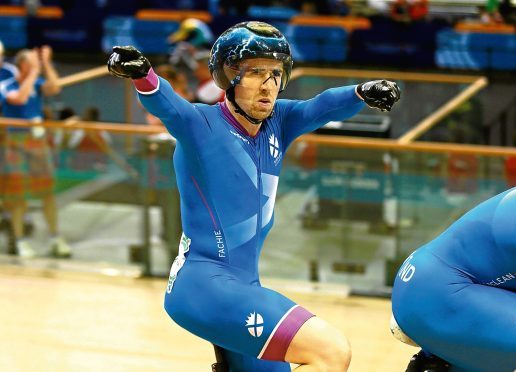 Paralympic champion Neil Fachie is not ruling out his cycling career continuing past Tokyo 2020.
However, the 33-year-old Aberdonian, who was born with congenital eye condition retinitis pigmentosa, has made early steps to setting up a mentoring company for when retirement comes.
Despite a recent drop in performance – Fachie left the Rio Paralympics with a silver, when he was expecting gold, and could only manage double silver at the UCI Para-Cycling Track World Championships in Los Angeles in March – his motivation to win more titles remains.
He said: "I certainly don't see myself retiring any time soon.
"After a Games you always take a big break, you get out of shape and, as you get back to training, you start to wonder whether you'll ever get back to the level you were at.
"But I've had a really good summer and I'm probably in better shape than I ever have been.
"I don't see any reason for calling it a day and I probably will go on to Tokyo in 2020.
"Things might change and sport's a fast-changing world, but that's definitely on the cards.
"At that point I'll re-evaluate again and see where I'm at.
"I don't want to go out having what happened in Rio as the end of my (Paralympic) career."
After an athletics stint, which peaked with competing in the 100m and 200m at the 2008 Beijing Paralympics, Fachie switched to para-cycling and has never looked back.
Riding in the tandem kilo and sprint events, he has won 13 mostly-gold UCI Para-cycling Track World Championships medals, two Commonwealth Games medals – double gold in Glasgow in 2014 – and gold at the 2012 Paralympics in London.
Fachie's two defeats in this year's world championships came at the hands of Team GB stablemate James Ball, and he claims defeat to his younger comrade has only spurred him on in recent months.
He said: "You don't want to let the young guy come up and start beating you, so that's been one of my driving factors.
"I think we've pushed each other on really well this summer and, as a whole, the team's in a strong place."
Older and wiser, he last year married Lora, who is a Para-cycling phenomenon and champion herself.
Fachie said he was given a wake-up call as he fell short in Rio and the pair have now set up LNF Coaching, with a view to using the lessons they've learned from competitive cycling to help people from all walks of life find fulfilment and reach their potential.
Lora, who is also visually-impaired, will offer guidance on nutrition, while Neil will coach clients on their lifestyles.
Fachie has been studying life coaching in his spare time and the couple hope their fledgling initiative will sustain them once they leave Para-sport – and their contracts with British Cycling end.
He said: "I just want to channel what I've learned through sport into people's everyday lives.
"The qualification is to give a bit of focus on what to look at.
"It's been really useful and helped me look at my sporting career and what I've learned as well and put it in a format that I think will be accessible to everyone.
"I think, firstly, most people have a lot of limiting beliefs.
"They assume people who are successful are born that way and they're not really worthy of that.
"Most wouldn't even bother to take the chance to do something. Something you certainly learn from a sporting career and being surrounded by people who have achieved at the highest level is that we are all capable of achieving great things – if we do the work and put our mind to it."
The Fachies will begin pushing the business on after next year's Commonwealth Games on Australia's Gold Coast, an event he thinks will be an "interesting challenge".
Falling just two weeks after next year's track world championships – back in Rio – Fachie and Team GB's other competitors will have to travel Down Under directly from Brazil, possibly changing their tandem partners between the two showpieces.
So are they hoping to inspire others with disabilities – physical or mental – to conquer the world in their fields?
He said: "We're happy to work with anyone and, particularly, those who are lacking a bit of direction or motivation.
"Whether they have a disability or not it's all the same to me, but it would be nice to have that and we may attract more people with a disability who see us as an inspiration.
"It's quite exciting and something I'm really looking forward to."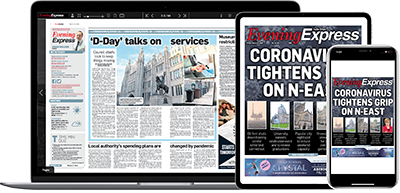 Help support quality local journalism … become a digital subscriber to the Evening Express
For as little as £5.99 a month you can access all of our content, including Premium articles.
Subscribe