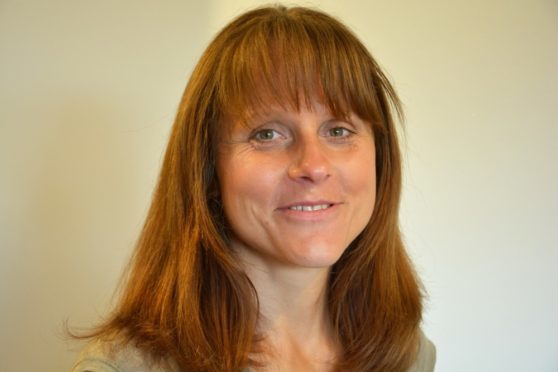 A Czech runner living in Peterhead will take part in her first Scottish road race when she lines up with thousands of other participants in the Simplyhealth Great Aberdeen Run next weekend.
Mountain runner Martina Robinson, who comes originally from Jablunkov in the Silesian region of her native country, moved to the north-east of Scotland last year after she and her husband fell in love with the area while on holiday.
The 39-year-old, who confesses to having hated running when she was a youngster, only took up the sport five years ago but now thoroughly enjoys it.
She has also done well in her home country, having finished second in the Silesian mountain marathon in 2016 and taking top spot in a series of mountain races in her local area.
Martina is looking forward to tackling her first Scottish half marathon in Aberdeen, although she is keen to emphasise it will be very much a fun event and she has no serious aspirations of finishing anywhere near the head of the field.
Martina said: "We have been living in Peterhead for a year now, after moving from the Czech Republic where we had stayed for 10 years. Before that we lived in England. My husband's mum comes from Peterhead and she stays in England but there are still family links up here. We came for a holiday in 2016 and loved it so much we decided to move here.
"I have been out running regularly since we arrived, although to begin with I didn't have much confidence as I didn't know many runners here.
"But I joined Jogscotland and ran with them, so that helped. Now I feel it is the right time for me to get involved in some local events and I am looking forward to taking part in my first Scottish race, the Simplyhealth Great Aberdeen Run. I don't know much about it other than it is a big event and it should be exciting. It takes place on my daughter Grace's 12th birthday so I will have to do well.
"It is very mountainous where I come from in the Czech Republic and I seem to be faster running up hills than I am on the flat so I don't really know how I will get on."
Martina juggles training around her work and a busy home life. She said: "I am a support worker in Peterhead, helping young people with autism. I also work for Aberdeenshire Council teaching English as a second language to people in Peterhead and, sometimes, in Ellon.
"Running is one of my favourite things to do. It is funny because when I was young I hated running. It made me cry if I had to do it, so it is amazing how you can change.
"I got started in 2013 because I had friends who were runners and they kept encouraging me to try it. To begin with I said no, but then I decided to give it a go on my own. I did 2km, then 3km, and every month I did a little more. Eventually I joined my local running club and I have been doing it ever since."
The Crathes Castle half marathon, which has attracted top Scotland international runners such as Robbie Simpson in recent years, has been saved by a new sponsorship deal.
PIM, an Aberdeenshire-based integrity management company, swooped in with an offer to sponsor the race after seeing a Facebook post highlighting that the event might not take place.
Now,with the support of the new backers, the National Trust for Scotland is adding a 1.5km cross country run for primary school-aged children to the event programme, which is on Saturday September 15.
Martin Worth, director at PIM, said: "We're delighted to be able to step in and work with the National Trust for Scotland to ensure that this well-known, local event takes place.
"It's also fantastic to play a role in encouraging the next generation of runners to get their trainers on and enjoy the great outdoors with the introduction of the children's run.
"As a company, we are running a health campaign throughout 2018 and some of our staff will be taking up the additional challenge to run the PIM half marathon."
Scotland international Fiona Brian set a women's course record time of 1hr 22min 59secs in last year's race while Great Britain ultra trail running representative Kyle Greig won the men's event in 1:12:18.
Brian is unable to compete this year but her clubmate Sarah Milne, winner of last month's Chapelton of Elsick 10km, is among the leading women entrants so far.
Greig is unsure as to whether he will be able to defend his title at the moment and will make a late decision.
Entries, which close on September 8, can be made at www.nts.org.uk/visit/events/the-pim-half-marathon-at-crathes-castle-1