Three-time Olympian Hannah Miley has been putting the next wave of Aberdeen swimming starlets through their paces.
The Inverurie native delivered a coaching clinic at Aberdeen Sports Village's Aquatics Centre on Saturday.
City clubs were asked to nominate their top four swimmers between the ages of nine and 13 to take part, with 23 in attendance.
The clinic was the brainchild of Miley, who wanted to pass on some of her own experiences and tips to the next generation.
As well as discussing her own successes, she wanted to encourage the children to think about their own approaches to swimming.
After training at Garioch Swimming Club during her formative years, Miley now lives and trains in the city.
And the 27-year-old wanted to give youngsters the building blocks to be similarly successful.
"They're not going to be like me, my story is very unique and very different," she said.
"Hopefully that can inspire them and help them make the right choices.
"I know they're not going to be in the same position I was in, so it shows them there are other ways to be a really good swimmer and if you really want to do it, here are a list of tools I can provide you with.
"I just want to show them it's not a set plan, more that these options are available and that it's more than just ploughing up and down a pool, there's dedication and commitment behind it.
"It's about educating yourself and looking beyond the coaches giving you the hard yards."
Miley and sponsor Watermans were behind the clinic, with the swimming star adding she hopes to deliver more in the future.
"When I do eventually hang up my cap and goggles, I would love to get in the business of masterclasses," she added.
Miley competed at her first Olympic Games in Beijing at the age of 19 and knows the importance of the formative years of a swimmer's development.
And she was keen to pass on as many tips and drills as she can, through a coaching session in the pool and interactive exercises outside of it.
"These are ones to watch, the next wave coming through," Miley said.
"There were other identified swimmers who weren't part of the group because of a competition elsewhere.
"I wanted to make sure every club in Aberdeen city had the opportunity to get involved.
"I asked them to put forward their top four swimmers who had good attitude, work ethic and could benefit.
"You don't have to be super-fast at this age, if you have good skills and work ethic, those are the foundations.
"If they have that, it does bode them well for being better swimmers when they're older."
And Miley hopes coupling her own experiences with the state-of-the-art facilities at ASV can help the youngsters reach their potential.
"It goes to show you don't need the biggest, fanciest facilities in the world, it's what in the swimmer that counts and that's what I want to show them," she added.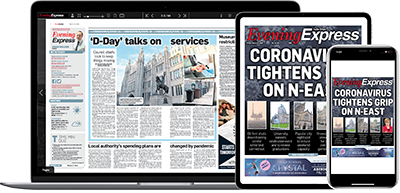 Help support quality local journalism … become a digital subscriber to the Evening Express
For as little as £5.99 a month you can access all of our content, including Premium articles.
Subscribe