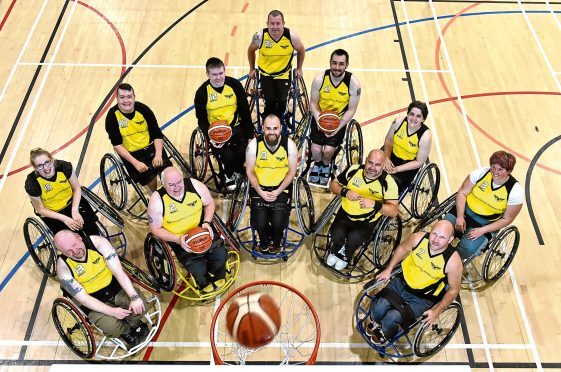 Aberdeen's wheelchair basketball side are to play in the Scottish Cup for the first time.
The Grampian Flyers will battle for the trophy against St Mirren Warriors, Lothian Phoenix and Dundee Dragons.
Previously the cup has been awarded after an exhibition between UK national league sides St Mirren and Lothian.
But this year the tournament has been opened up to teams in the Scottish development league, like the Flyers.
First up, the Flyers take on St Mirren on Sunday (3.15pm tip-off) … and it won't even be their first match of the day.
Tony Stott, 52, of Bridge of Don, Flyers' player, fixtures and fundraising co-ordinator, said: "On the day of our semi-final we have a game in the league against St Mirren's development squad first (1.30pm tip-off), then the Scottish Cup game against St Mirren's division one national league team.
"The semi is taking place at the Beach Leisure Centre and the final will be in January.
"It's a big challenge for us. Last season was the first year of the Scottish development league, so we have that this season as well.
"On top of that we've entered a league which is being played in the north-east of England. There will be six teams in it – four from England, Lothian and ourselves.
"That will push us on a bit.
"The challenge of playing against St Mirren is great, because they're quite a few grades higher than what we're at.
"We're still developing and the guys are all looking forward to it. As much as we're likely to get hammered, who's to say we can't do it?
"If we pull off the result, we'll definitely do a lot of celebrating that night."
The Flyers won the development league last season. However, Stott thinks they will more than likely learn a few things from St Mirren.
He said: "It will be a massive boost to us because we'll see how a team of that grade plays the game differently from what we do.
"We'll have an insight of different ideas to take forward into our own team."
Stott said of the rest of the season: "It's a massive commitment because the basketball chairs aren't small.
"I've got a long-wheelbase van and we use that for transporting them.
"If we ever look at getting into the national league, that's a lot more travelling and is the next step ahead, I would say.
"At the moment we sell sweepers and stuff to try to fund some of our travels, but we're always on the look-out for sponsors to come on board.
"We're looking at a system to try to get each player a couple of sponsors to help. But it's quite tough times to get sponsorship."
Grampian Flyers' squad is made up of around 20 players, with ages from 14 to 52, and they train twice a week – Mondays and Wednesdays.
Players come from as far afield as Longside and Mintlaw, given the Flyers are the only wheelchair basketball club in the North-east.
The club also started a junior team around a year and a half ago and may soon expand to cover other wheelchair sports.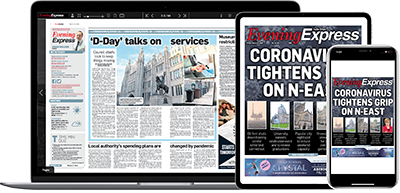 Help support quality local journalism … become a digital subscriber to the Evening Express
For as little as £5.99 a month you can access all of our content, including Premium articles.
Subscribe