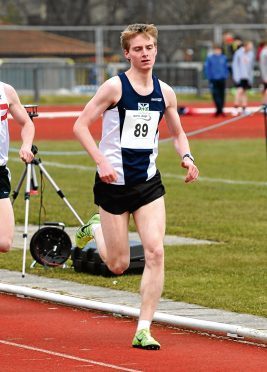 Aberdeen AAC's Michael Ferguson is confident his club can achieve a podium position in this weekend's cross country relay championships at Cumbernauld.
No north-east side has ever won the senior men's title since the competition was first held in 1974, with the best Aberdeen AAC performances coming in 1979 and 1981 when silver medals were pocketed.
Ferguson's side finished third last year and the ambitious target now is to end Central AC's five-year reign as champions.
The Aberdeen runner knows it won't be easy, particularly after finishing second behind Corstorphine AAC in the East championships a fortnight ago.
Ferguson remains optimistic, saying: "I believe we have the strongest squad the club has had in a good few decades. It's just a case of trying to make sure everyone is available.
"I think we have a real chance. Central AC are maybe a little bit weaker than they have been in the past, although if they have Olympian Andy Butchart in the team, as they did last year, we probably won't win.
"If he's not there, however, then I feel we will be in the mix again. I am sure we can at the very least match last year's performance when we finished third."
Ferguson produced a strong performance to finish second behind Fife AC's Logan Rees in last weekend's Scottish East District cross country league match held over a tough course at Stirling.
He said: "I was reasonably happy with my performance. It was a real mudbath and Logan was able to sprint better than me towards the end in these conditions."
The city club will this weekend field the same quartet that picked up silver medals in the East championships at Glamis Castle earlier this month with Ferguson backed by Rory Stead, James Hoad and Will Mackay.
Aside from club ambitions, Ferguson has a number of key personal objectives in mind in both the short and longer term.
He said: "I cut the track season short because I was having a few niggles and training wasn't going as well as planned.
"I decided to have a break and I was going on holiday in any case. I just got back into training around the middle of August and I feel I am fighting fit again.
"I have been increasing my mileage slowly and trying to be sensible by not doing too much too soon.
"I plan to compete in the national relays, the national short course championships and the Scottish universities championships."
He will also be chasing European cross country championships election for the Great Britain Under-23 team.
Ferguson said: "The Euro trials will be in there as well. The past couple of seasons I have pushed hard to try to do well there but both times it didn't work out. I just seemed to time it wrong training-wise.
"Last year, for instance, I peaked in October and got a bit injured, so I need to try to avoid that this season.
"This time I'm going to be more relaxed about it. I'll take each week and each race as it comes. If I'm in good shape for the trials, then fine, if not, then so be it.
"I'm not going to stress myself as I have in the past. I'll aim for some good performances in Scotland and if it all goes well, then great, I'll be ready."
Ferguson will also hope to do well in the Scottish cross country championships at Falkirk next February, but says he may be tempted to try a few indoor races during the winter.
He said: "I might do a couple of races, possibly the Glasgow Milers meeting and the national championships. I'd be aiming to run 1500m and 3000m but I haven't decided for sure.
"Adding indoor races makes the season very busy, so I'll decide about that later."
Looking further ahead to next summer, Ferguson admits he still has some unfulfilled business to attend to.
He is currently second on the Aberdeen AAC all-time best performer's list for 1500m with a time of 3min 45.27secs set in 2015
The club record of 3:44.67 by Alan Wales in 2006 remains tantalisingly close.
Ferguson said: "I have some unfinished business with the 1500m, so I'd like to have a go at the record again. I'll definitely be focusing on that distance during the summer but I may do a few 880s and the odd 5,000m as well."
He is also keen to try his hand on the road racing scene and fancies a crack at the 10km.
He wanted to make his debut in the River Ness 10km in September but the race clashed with a coaching conference he wanted to attend.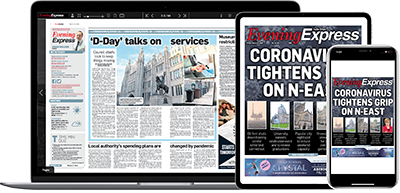 Help support quality local journalism … become a digital subscriber to the Evening Express
For as little as £5.99 a month you can access all of our content, including Premium articles.
Subscribe