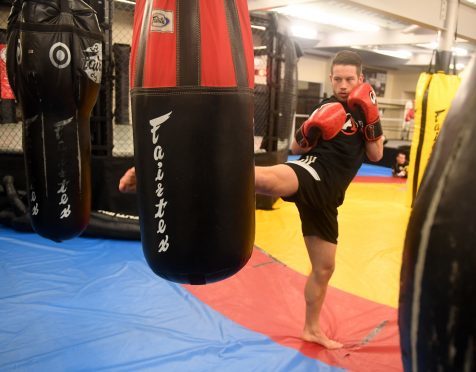 Aberdeen kickboxing star Dean Sutherland today vowed to unify all six belts at 67kg before switching to a bid for glory at professional boxing.
The 19-year-old will face Anthony Duchenne of France at the Skyaxe Gym, Dundee, next Saturday for the vacant 67kg ISKA Full contact title.
One of the world's hottest kickboxing stars, Sutherland held world titles simultaneously at four weights before stepping up to semi-pro.
Facing Duchenne, who has more than 90 wins from 97 fights, represents his first senior title shot.
Sutherland ultimately aims to enter pro boxing but wants to leave kickboxing on a high by becoming a history-making six-shooter.
Duchenne is the first obstruction to landing all six belts with England's Zachary Evans the next target.
Sutherland said: "This would be my first senior world title.
"Before I do anything in the rest of my career I want to unify the weight and hold all six belts that are available.
"That is my target. It is something a lot of people want to do but never achieve because they tend to stick to only one or two associations.
"If I could win all six belts it would make a massive statement before I move into boxing."
Sutherland was initially scheduled to face Evans earlier this month but Evans pulled out of the title bout due to a hand injury.
The fight was again rescheduled for November 25, but was again cancelled due to Evans' ongoing problem.
Sutherland aims to secure the title next Saturday and strengthen his bargaining position to secure a title clash with Evans, with the Englishman, of Adrenaline Gym, Walsall, putting multiple belts on the line.
He said: "I was supposed to be fighting Evans who holds three out of the six world titles at this weight.
"We were scheduled to fight on October 14 for the belt I will face Duchenne for, and one of Evans' titles. However, he pulled out through injury.
"Zac was offered to fight me next month and agreed, saying his hand was good.
"Then two weeks later he confirmed it wasn't good which is when Duchenne stepped in.
"Evans is the big one, the one everyone wants to fight and I am no different.
"If I win the ISKA Full contact title on Saturday, it will be something to bargain with.
"Evans is in the way of me lifting all six belts as he holds three titles.
"If I beat Duchenne it gives me a bigger shout of not just getting one of Evans' belts on the line, but all three."
Sutherland simultaneously held world kickboxing titles at 60kg, 62kg, 63.5kg and 65kg before stepping up to the senior ranks.
Since the age of 10 he has completely dominated his age groups with multiple world, European and British titles.
That relentless momentum has not only been isolated to kick-boxing as Sutherland has changed disciplines with ease, securing an impressive victory over Josh Moules in Muay Thai at the Aberdeen Beach Ballroom earlier this year.
He has gone up against top MMA (Mixed Martial Arts) stars and triumphed. Sutherland secured a notable victory last year when stopping Ireland's Chad Reilly, tipped as the next Conor McGregor, to win the ISKA 65kg world title.
Last month he fought for the first time in semi-pro boxing and won comfortably – a precursor to an inevitable permanent swap to pro boxing around 2019, as part of ascending career progression.
For now, highly-experienced Frenchman Duchenne stands between Sutherland and his over-riding target in kickboxing of securing all six available belts.
Sutherland said: "The fight against Duchenne has fireworks written all over it.
"He has a lot of experience with more than 90 wins in his career.
"Duchenne won the Commonwealth title a few weeks ago for the weight we are fighting at."
Sutherland's gruelling training regime has ensured he is in peak condition to face the Frenchman in the top-of-the-bill showdown in the City of Discovery.
Although he is predicting "fireworks", Sutherland is also confident of securing a stoppage inside the first three rounds.
He said: "Everything has been going fantastic in preparation as I have been training hard.
"With the strength I have I am a lot, lot bigger for the weight category I fight in now. Within that weight division I have started to gain a lot of power.
"I am planning to go right through him and I don't believe he will go past the third round.
"It will be quite a short night.
"Duchenne is a very good fighter but he doesn't have the body frame for that weight category.
"He would be classed as a small fighter in that 67kg category.
"Although Duchenne is roughly the same size as me the crucial thing is I have a far bigger back and legs.
"He will be able to fight but won't be able to sustain it.
"After a few of my big shots go in I expect him to crumble and look for a way out."
Such is Sutherland's dedication to his craft he made his competitive boxing debut on his 19th birthday – and, as has been the pattern throughout his career, he won.
He fought on a semi-pro card at the Crowne Plaza Glasgow last month.
He said: "That boxing match went brilliantly.
"I have a huge passion for boxing and want to hopefully go into professional boxing after kickboxing.
"Fighting in Glasgow was a good platform to see what is required.
"I do lots of boxing sparring with professionals and high class amateurs and have always held my own.
"So that fight was just to see what it was like to be in there in the ring.
"It went punch perfect for me."
Moving into the potentially lucrative ranks of professional boxing is likely to come some time within the next two years.
Until then Sutherland is a man on a mission to create kickboxing history by unifying the 67kg (welterweight) titles.
Boxing fans look out for his name – he aims to step into the sport permanently with a buzz around his reputation and ability.
He said: "I am looking at a year and a half to two years before I turn professional in boxing.
"But before then I hope to get some waves rocking and people talking about me."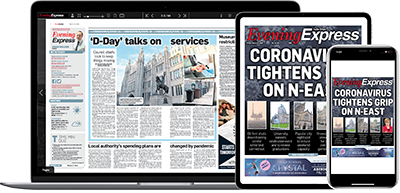 Help support quality local journalism … become a digital subscriber to the Evening Express
For as little as £5.99 a month you can access all of our content, including Premium articles.
Subscribe