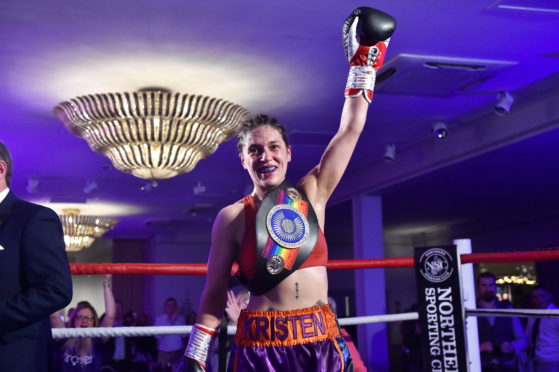 History maker Kristen Fraser insists securing the Commonwealth title made years of sacrifice and dedication worthwhile.
The 30-year-old Aberdonian stopped Malawi's Ellen Simwaka in an enthralling fight to secure the vacant bantamweight belt.
Fraser is the first Scottish women's boxer to win a Commonwealth title and the trailblazer immediately set her sights on adding more prestigious belts next year.
In a ferocious clash a punishing body shot from Fraser ensured reigning WBF International title holder Simwaka quit on her stool at the end of the fifth round.
Fraser said: "This is worth all the sacrifice and hard work.
"I cannot believe I have won a Commonwealth title and it will take a while to really sink in.
"It is a big turning point and something I have been working towards for so long now.
"It takes a real team to build up to this and I have an amazing one behind me."
Following the impressive title success Fraser, who has now won all six of her professional fights, has been elevated to eighth in the European rankings.
She will take a well-earned break for the rest of the year before launching a bid to secure more historic belts as she forges a path for Scottish women's boxing.
She said: "I will relax for a couple of weeks, enjoy this success then go back to the gym for February.
"I will have a look to see what titles are out there and go again."
Fraser wore rainbow laces for the title bout at the Hilton Treetops Hotel in support of the campaign for LGBT equality in sport.
Prior to the bout Simwaka insisted she had travelled almost 9,000 miles for a battle and Fraser insisted it is in the toe-to-toe battlegrounds where she thrives.
Both fighters obliged in an engrossing encounter where heavy shots were thrown and landed.
Fresh from a 10-round WBF world title fight in August, 21-year-old Simwaka made an explosive, aggressive start and her front-foot approach took the first round.
It continued in the second but Fraser never wilted and stuck to her game plan. Her punches began to land and the Aberdonian began to gain the centre of the ring.
Fraser said: "Simwaka said she was coming to Aberdeen to fight me and she certainly did that.
"We expected her to be tough and she was. In the first round she caught me with a right hand and a good body shot.
"In the second she caught me with a cracking upper-cut and I thought 'she is not giving up'.
"I stuck behind jabs and straight punches and held my ground.
"I started to break her down and a nicely-placed body shot sealed it.
"When she was on the receiving end of punches she wasn't enjoying it."
The closing phase of the fourth round was pivotal as Simwaka landed a powerful blow to Fraser's temple but the Aberdonian stood firm and launched an immediate counter right that put her opponent on the canvas for a count.
Fraser asserted her authority in the fifth and delivered a devastating body shot to the solar plexus towards the end.
It left Simwaka unable to continue and she quit on her stool.
Fraser was ready to go to war again in the sixth.
When Fraser's corner realised Simwaka was not coming out it sparked ecstatic celebrations as Scottish boxing history was made.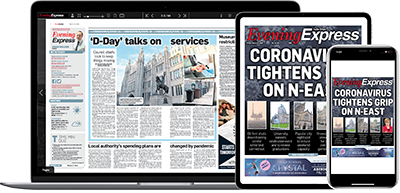 Help support quality local journalism … become a digital subscriber to the Evening Express
For as little as £5.99 a month you can access all of our content, including Premium articles.
Subscribe