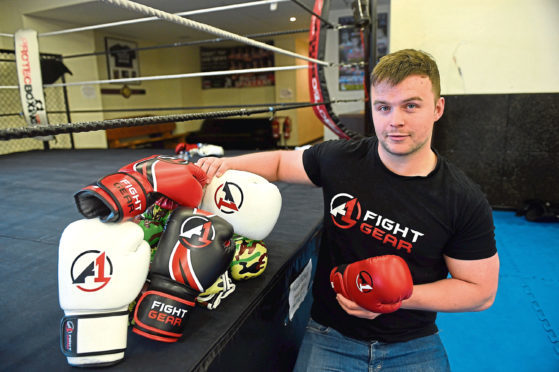 An Aberdeen fight equipment company today launched a giveaway of 50 pairs of boxing gloves to benefit underprivileged youngsters, clubs and boxers
A1 Fight Gear are offering the new pairs of gloves to help boxers.
Founded in September 2016, A1 Fight Gear already have Commonwealth bronze medallist John Docherty and British elite champion Boris Crighton wearing their gloves.
Now boxers can get their hands on A1 Fight Gear gloves in the special giveaway.
A1 Fight Gear's Sean Cowie said: "The free boxing gloves are more for underprivileged clubs that have poorer members and kids who can't really afford them.
"They are the ones who would really benefit from it. It could make a real difference for a young kid who falls in love with the sport but is not able to get their own pair of boxing gloves.
"For a club owner to be able to present them with a pair of our gloves and for us to make a difference means everything.
"To be able to be the ones helping kids all over Britain is a really fulfilling thing."
A1 Fight Gear are rapidly expanding and recently opened a shop in Paris.
"Recently there was an incident of a kid with no confidence who was being bullied at school," said Cowie.
"He came to three or four boxing sessions but didn't really know anyone.
"When he was presented with a new pair of boxing gloves it lit his face up. To be able to do something like that is a nice feeling."
A1 Fight Gear has expanded rapidly and the company now provide custom made gloves for fighters in the USA.
Cowie said: "We did the glove giveaway last year and have now given away more than 100 pairs.
"When we made our first 50 pairs of gloves there was a small problem with the logo but nothing actually wrong with the gloves.
"So we thought of giving them away for free to people who could benefit from them.
"It made such a positive impact on clubs and people who can benefit from them. It was a no-brainer for us."
Multiple kick-boxing world title holder Dean Sutherland, who recently switched to pro boxing, also uses A1 Fight Gear equipment.
Cowie said: "Long term we want to be one of the top businesses doing this for the boxing, MMA and the Muay Thai industry. We want to be in every main retailer and be a dominant force in the market."
Anyone interested in a free pair of gloves, email info@A1FightGear.com with the subject heading: A1 GLOVE GIVEBACK.