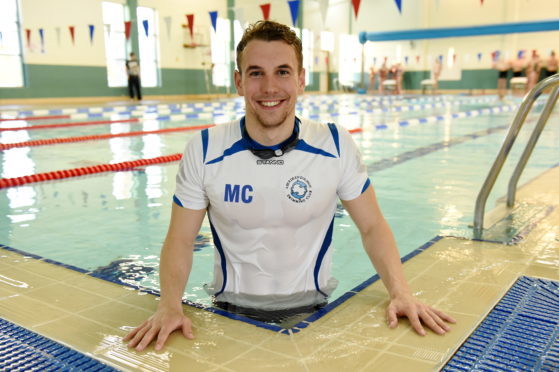 Peterhead swimmer Mark Campbell will shut down his computer in the sales department at Schlumberger tonight before heading to Edinburgh to swim against aquatics superstar Adam Peaty.
Bronze medal-holder Campbell, 26, looks likely to line up against Peaty – the world record holder – in the 50m breaststroke at the British Championships on Sunday.
The athlete has also been selected to represent Team Scotland at the Gold Coast Commonwealth Games in April – the furthest from home his sport has ever taken him
Campbell quit swimming two years ago after disappointment at the Glasgow 2014 trials, but has roared back in the last couple of years, the highlight being third place behind Peaty and Aberdonian Euan Inglis in Sheffield last April.
He said: "I'd been going to the gym and was getting a bit fed up of it.
"I thought 'I'd like to go back and do a bit of swimming instead'.
"Tom Lindsay was my coach when I first joined the Dolphins and he'd been trying to convince me for about a year to get back in the pool.
"Eventually he convinced me to get in, more for fun than anything.
"But I started swimming a lot better and then the Commonwealth Games became a realistic possibility."
Campbell, of Pocra Quay, swam with City of Aberdeen full-time while at uni, but is now in his second spell with Aberdeen Dolphins, a club he described as "a masters group for people who are working but want to do some swimming on the side".
Despite his break and pool comeback being for the fun of it, Campbell said he wasn't a million miles off his previous best when he returned to swimming.
He said: "I was probably still within a second of the times I was doing before. I think over the 50 – I'd kept myself quite fit with the gym and stuff – so it wasn't too difficult to get back into it.
"I managed to pick it up again pretty quickly."
However, he admits travelling to Australia for the Commonwealths – he leaves on March 17 for a pre-camp – wasn't something he'd thought about until he swam 27.61, just over a second-and-a-half shy of the world record in the 50m breaststroke in Aberdeen.
The time came as a surprise and was under the Team Scotland qualification standard.
There was only one problem – he'd have to do it again at a qualifying meet and his time of 27.66 in Sheffield last year proved good enough.
Ever since he's been deep in training for Gold Coast, around his full-time job, with this weekend's event set to provide a marker of how competitive he is with the 50m breaststroke big boys.
Of his training, which takes place at the Aberdeen Sports Village Aquatics Centre and Northfield Pool, he said: "My work's been great, really helpful. I wasn't really sure, because it's a bit of a unique situation, but they've been spot on.
"As for training, it's only four hours a week we do, so an hour every other day. It doesn't really take up too much of our time.
"I'm not in the gym at all just now. It's all about high-intensity swimming.
"We just go in and swim at max speed for an hour, with plenty rest in between.
"I do a wee bit of bodyweight stuff, core exercises to keep myself ticking over.
"If you go to the gym before it you'll be a bit tired.
"The whole point is that you're swimming at absolute race pace and if you're feeling sore that's not possible.
"It works quite well as the training we're doing and the time we've got lend themselves quite well to each other."
Campbell admitted he's had to cut back on the beers in the last couple of weeks with the Commies in mind.
He thinks training to race conditions will mean he is better prepared mentally for the gun Down Under, but he expects competition to be fierce, admitting he'd be satisfied to get to the final in his event.
Campbell thinks the pool in Gold Coast being outdoors might have a part to play in the result.
He said: "The guy from South Africa, Cameron van der Burgh, has been at the top of the 50 breaststroke for 10 years.
"Obviously Adam Peaty has come on the scene recently and blown everyone out of the water. They'll be the top two bar a big upset.
"They're the top two 50 breaststrokers of all time.
"I've swam against Peaty before, he was at the British Championships when I got third.
"He's down at the British Champs this weekend. Based on the programme, I think I'll probably be in the lane next to him in the heats, which will be good preparation for when I'm over there.
"Even if I'm just a wee bit behind him it's a world-class time, because he's special."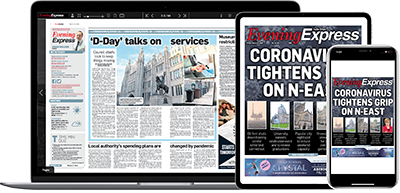 Help support quality local journalism … become a digital subscriber to the Evening Express
For as little as £5.99 a month you can access all of our content, including Premium articles.
Subscribe