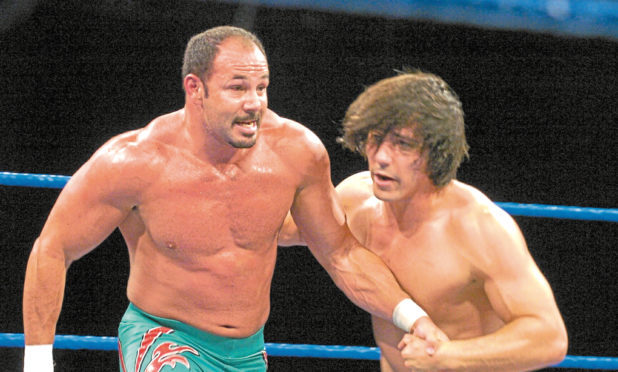 WWE legend Chavo Guerrero Jr today promised Aberdeen wrestling fans an unforgettable match fitting to his family's ring legacy.
The four-time WWE cruiserweight champion is one of two ring greats set to battle it out at Wrestlezone's Aberdeen Anarchy X on Saturday September 1.
Former WWE Intercontinental champion Santino Marella will also compete at the Beach Ballroom event to mark Wrestlezone's 10th anniversary.
Chavo Jr is the latest in an illustrious line of wrestlers from the Guerrero family.
He is the son of Chavo Guerrero Sr, a 15-time heavyweight champion.
Chavo Jr is also grandson of Lucha Libre wrestling trailblazer Gory Guerrero.
Chavo Jr, who will face Bingo Ballance in the Granite City, also won the WWE tag-team title twice with his uncle Eddie as Los Guerreros.
Talking to the Evening Express from his American base, Chavo Jr said: "Fans can always expect from me a great wrestling match as only the Guerroros do."
Although now 47 years old, Chavo Jr remains in great shape and competes on the pro wrestling promotion and television series Lucha Underground.
On his enduring fitness, he said: "I still train very hard and keep my diet tight.
"It is down to that and good genetics."
As well as continuing the family legacy in wrestling, Chavo Jr has also broken into television work with the hit Netflix series GLOW.
The show focuses on the syndicated women's wrestling circuit of the 1980s.
Chavo Jr appeared in two episodes but his main work on the show has been as stunt coordinator and wrestling consultant.
He said: "I think GLOW is pivotal in bringing wrestling to viewers who normally would not watch wrestling.
"It is great to see a wrestling show getting recognised in the same sentence as shows like Game of Thrones, Stranger Things and other great mainstream television shows.
"I always have a passion for wrestling, but now it's a little different as I've been behind the camera more often, creating content on shows like GLOW and Lucha Underground."
Chavo Jr is also part of that latter hit television show which features wrestlers from the American independent circuit and Lucha Libre AAA Worldwide, one of the largest wrestling promotions in Mexico.
He said: "Lucha Underground is a great show to work on. We changed the game a little with the way we shoot the show and the backstage scenes.
"We must be doing something right because the big boys are copying some of the stuff we're doing.
"They say imitation is the sincerest form of flattery and I am good with that."
Chavo Jr's clash with Ballance is one of the highlights of an action-packed night of action at Aberdeen Anarchy X.
Top of the bill is a much-anticipated showdown between holder Shawn Johnson and Damien for the WrestleZone undisputed title.
The bitter rivals have had an on-going feud for years and it will reach a climax at the Beach Ballroom. The showdown will be Wrestlezone's first steel cage match.
The future of the controversial Sterling Oil team will also be on the line at Aberdeen Anarchy X.
A Sterling Oil team of manager Richard R Russell, Crusher Craib and the Sterling brothers (William and Alan) will face Scotty Swift, Johnny Lions, Bryan Tucker and Chris McDonald.
WrestleZone management McDonald will make his ring debut in that clash.
The stipulation is that Sterling Oil must disband if they are defeated.
Controversial manager Richard R Russell has vowed Sterling Oil will remain a force in WrestleZone after the Beach Ballroom action.
He said: "I stepped up to stand alongside my Sterling Oil brothers. Aberdeen Anarchy will be a Sterling Oil celebration whether Chris McDonald puts himself on the line or not.
"They want to throw stipulations at me and say that if they win Sterling Oil are no more and gone forever.
"There is no way on the biggest occasion in WrestleZone history, on the 10th anniversary supershow, that you will see the greatest unit that this company has ever had come to an end."
The team of Tucker, Swift, Lions and McDonald recently claimed they would triumph to end Sterling Oil.
William Sterling has other ideas.
He said: "Scotty Swift mentioned we had been fighting for 10 years and it is going to come to an end at Aberdeen Anarchy. But it will not be Sterling Oil that will come to an end – it will be Scotty Swift's team."
Alan added: "I beat Johnny Lions before. I am going to put the Lion to sleep."
Crusher Craib, aka The Creator of Carnage, recently defeated Bryan Tucker in a dog collar match in Inverurie.
He aims to make it a double at Aberdeen Anarchy.
Craib said: "I destroyed him (Tucker) and he is stupid enough to take part at Aberdeen Anarchy.
"Make no mistake, I will destroy him once again."
WWE legend Santino Marella will team up with World of Sport champion Grado in a tag-team match with Krieger and Kit Fite.
Holders The Rejected defend their WrestleZone tag-team title against Kings of Catch.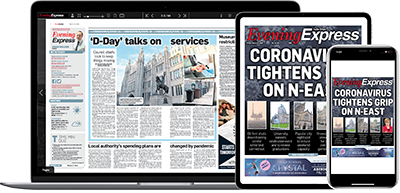 Help support quality local journalism … become a digital subscriber to the Evening Express
For as little as £5.99 a month you can access all of our content, including Premium articles.
Subscribe