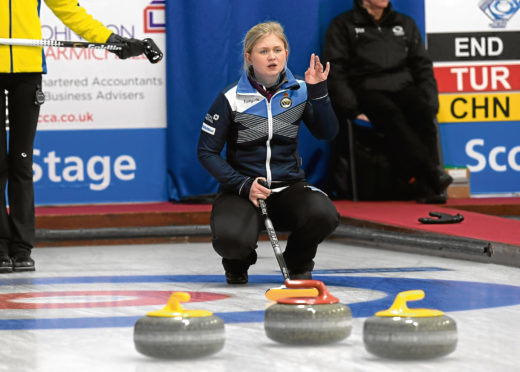 Skip Ross Whyte praised the Aberdeen crowd as his Scotland men's rink became the first side to reach the World Junior Curling Championships semi-finals.
Team Whyte confirmed their place with their seventh win in seven in the afternoon session, a 10-5 victory over Switzerland, meaning the lowest they can finish in the round-robin is second.
Whyte, whose rink had two more wins than any other men's side at close of play and will be seeded first or second in the next round, said: "It was always our goal if we could get one or two (in the league standings) because it gives us the hammer going into the play-offs, and that's quite a psychological advantage.
"We're really pleased to get the top seed.
"We're just staying within our zones and we're doing all the things we set out to do before we came here.
"We're managing to stay focused on the task in front of us.
"It's incredible to play in front of our fans here in Scotland because they're always so hyped when you make a shot. Hopefully, they can keep chanting even louder for the rest of the week."
Whyte and Co were set to play twice today – in the morning against China and in the evening against Sweden.
Meanwhile, tactical changes were not enough to prevent Scotland's women's side suffering two heavy defeats in their draw, meaning they could no longer qualify for the knock-out stage.
Last night, the Scots lost 11-4 to the United States, following up a 10-4 defeat against runaway, and already qualified, leaders Sweden in the morning session.
Scotland were eighth in the table, with only Russia to play (2pm today), and were on three wins. Five wins was set to be the minimum to reach the next stage.
In yesterday's games, last year's silver-medal holder from South Korea, Sophie Jackson, who had been alternate, skipped the team.
Aberdonian Rebecca Morrison dropped to vice, with Amy Macdonald vacating her position in the side.
Following the loss to the Swedes, Jackson said of the changes: "We're just trying to see what works best. We're getting to the later stages of the competition now, so we're just trying things out. Sweden was a good game to practise it in. I've got the experience, so I'll try to support the girls as best I can."
The World Junior Curling Championships run until Saturday, with tickets available at the door or at https://www.eventbrite.co.uk/e/world-junior- curling-championships-2018-tickets-38532339264