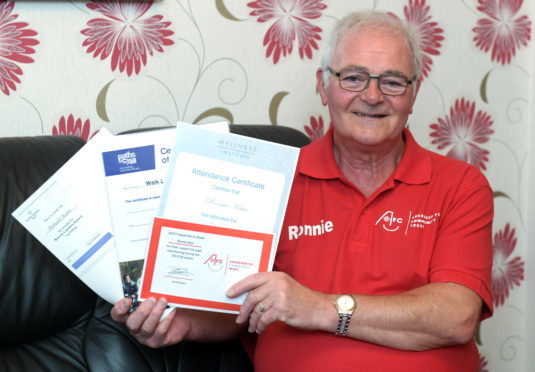 A 70-year-old volunteer who commits more than 20 hours every week to helping the elderly and disabled stay active has been nominated for one of Aberdeen's Sports Awards.
Seaton's Ronnie Kain, a retired long-distance lorry driver, is up for the Volunteer of the Year – Adult prize.
Ronnie drives a minibus for Aberdeen Physically Disabled Swimming Club, taking the members to and from sessions at the Sports Village Aquatics Centre.
On top of this, he has gone from participant to organiser with the Aberdeen Football Club Community Trust, leading buggy and health walks, as well as driving other residents in his sheltered housing complex to the Boogie in the Bar and Golden Games initiatives.
He also runs exercise and social events within the complex for those who cannot get out to other events, among a host of other efforts.
On initially getting involved with volunteering to the admirable amount of work he's doing now, Ronnie said: "When I retired, I could've stayed on at work, but I had prostate cancer – I've still got a trace but everything's been ok.
"Discussing it with my wife, Irene, I thought I might as well retire now and enjoy things while I can.
"I then saw in the Evening Express three or four years ago the disabled swimmers' club were desperate for a driver.
"I just telephoned the number and it kicked off from there.
"It's been a happy attachment ever since.
"I then became involved with the AFCCT and from there I've done a few courses."
He added: "I saw they were doing Technogym and things at Pittodrie. I went along to an open day and it all kicked off from there. On Tuesdays I was going to over-65s walks and going to the Technogym on Wednesday mornings.
"Now I'm a qualified instructor on that and seated exercises, as well as a walk leader. I do a recce on routes and then take over-65s walking."
Ronnie's key role in getting people of a similar age out and about who would otherwise be housebound cannot be emphasised enough.
If he can't lead an over-65s walk, he makes sure people can still get there. He also always ensures the group have somewhere to go for tea and coffee afterwards.
The impact of his volunteering is also clear with the disabled swimming group.
Ronnie said: "With the disabled swimmers on a Tuesday night, there are two of us on the bus. One of us drives and one is the carer.
"We have wheelchair users who need to be secured, etc. One time I had arranged my holidays and so had the relief driver, and we hadn't told each other.
"That night the guys couldn't get swimming – it's as simple as that, they rely on volunteers.
"I was up in Fraserburgh at a friends' caravan, so I came back to Aberdeen, took them to their swimming and travelled back again.
"It's just a good feeling to help people."
Aberdeen's Sport Awards take place on October 4 at Aberdeen Exhibition and Conference Centre.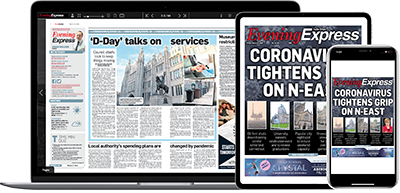 Help support quality local journalism … become a digital subscriber to the Evening Express
For as little as £5.99 a month you can access all of our content, including Premium articles.
Subscribe