Gymnastics superstar Beth Tweddle officially opened Sport Aberdeen's gymnastics performance centre, declaring it a place where "dreams can really come true".
The 2012 Olympics uneven bars bronze medallist unveiled a plaque alongside Colin G Taylor, chairman of Sport Aberdeen, who have established the gymnastics-specific facility.
The refurbished centre is fitted with all of the required apparatus, including springed floor, foam pits and rings.
Three-time world champion Tweddle, 33, who retired in 2013, was delayed in flying up from Manchester and arrived slightly late to the Granite City venue.
She told an audience filled with talented young gymnasts she had issues getting her London 2012 medal through security, and stressed the importance of facilities in athletes' success.
After the plaque ceremony, she said: "I first started doing gymnastics at Crewe and Nantwich at the age of seven and at 12, I moved across to Liverpool and that's when my training became more serious.
"I was very lucky that I was always training in purpose-built (centres), but the facilities here are great.
"You can see the enthusiasm from the kids, the coaches and all of the gymnasts. They're raring to go. And when you've got a purpose-built like this, dreams can really come true."
Tweddle, who spoke alongside Steve Paige from Gymnastics Scotland and Alford's Commonwealth Games women's team captain Izzy Tolometti, said her "biggest passion now is inspiring the younger generation".
She added: "My day-to-day now is a real mixture.
"I do the commentary for the gymnastics for the television, but my biggest passion is inspiring the next generation.
"I have my own classes down in the north-west (of England).
"So we have 29 different venues and 3,000 children who are just at a recreational level."
Tweddle was full of praise for four City of Aberdeen Gymnastics Club athletes – Innes Reid, aged 16; Lexi Walker, 11; Mackenzie Reid, 11 and Kirsty Fowler, 14, who demonstrated their skills in front of the Alex Collie Centre crowd.
She said: "It's always difficult to perform in front of a crowd, especially when it's not competition.
"So it's really nice to see what the gymnasts are up to here and they did a really good job today."
Sport Aberdeen's gymnastics pathways co-ordinator Aynsley Henderson said: "It is an exciting time for gymnastics in Aberdeen, especially having Beth Tweddle with us to help celebrate.
"Gymnastics is already making a great impact within the city and we are looking forward to helping it develop to its full potential.
"As well as delivering our Sport Aberdeen programme, we work with clubs to create a pathway for gymnasts across the city. Recreational or elite level, we believe gymnastics can be enjoyed by everyone.
"Gymnastics is an inclusive sport with its diverse disciplines."
Sport Aberdeen also revealed 140 new spaces for children interested in becoming involved in gymnastics across Aberdeen.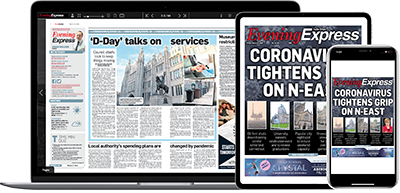 Help support quality local journalism … become a digital subscriber to the Evening Express
For as little as £5.99 a month you can access all of our content, including Premium articles.
Subscribe