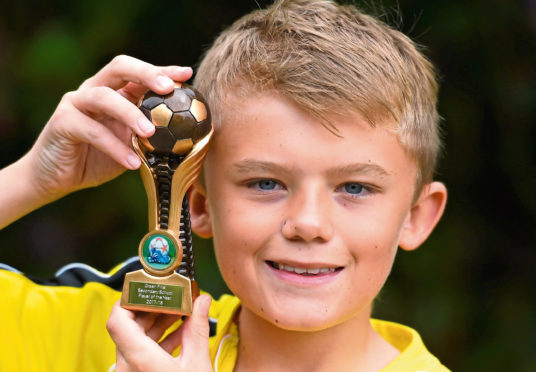 A talented young keeper has been named the Evening Express' Secondary School Player of the Year.
Owen Parrish, who played for Torry Academy's final first-year team, has won the award after what has been a challenging season for the side.
Out of the seven matches they played across the league and cup competitions, battling Torry didn't manage a win. but Owen, 13, impressed with several good saves.
He earned the praise of every opposing coach with his performances.
Owen, whose shot-stopping is more admirable given he is now tending a full-sized goal, said: "We didn't win a game, but we did always try to win.
"We had good spirit in the team – sometimes there was arguing, but we did do well.
"I look really small in the goals.
"But when someone takes a shot if I save it, I save it, and if I don't, I don't – at least I've tried.
"I sometimes pretend I'm going to one side so the striker shoots the other way."
When asked whether he'd been the hero for Torry, with his goalkeeping sometimes keeping the team in games, Owen was reluctant to call himself that, but admitted some people have said it.
Either way, Owen will be the academy's last recipient of the award – as next term Torry and Kincorth academies' pupils will move into the new Lochside Academy.
However, he plans to play for the school's second-year team.
Owen also plays for Dee Boys Club in the juvenile leagues and used to be a striker, before he realised his ability with the gloves.
He said: "I used to be a striker, but a year into playing our goalkeeper was injured and I went in.
"I started to enjoy going in goals so I went in all the time."