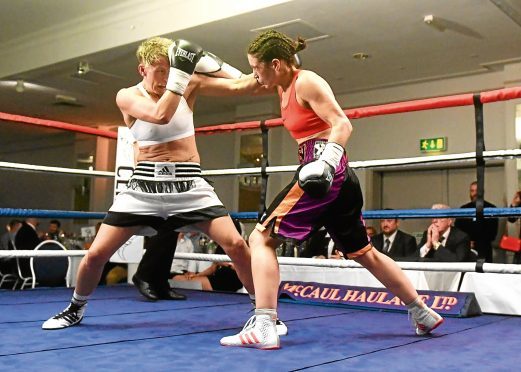 Boxer Kristen Fraser is eager to get back in the ring to wrap up her promising first year in the pro ranks.
Granite City fighter Fraser, 29, Scotland's first female professional fighter, was launched into the North-east public's view this year, with points wins over Lana Cooper in March and Gabriella Mezei in June.
Now, the super-bantamweight is looking to see out 2017 undefeated, with bill-topping fight against an unconfirmed opponent at the Hilton Doubletree Treetops Hotel on November 25.
Hungarian fighter Eniko Tiringer, 22, who has a 3-0-0 record and also in her first year as a pro, is in talks for the showpiece.
Fraser, who fights under the Northern Sporting Club banner, said of her landmark year: "I got my first two wins under my belt.
"But I was disappointed when I had to pull out of the last home show (against Mary Romero in August) because I was ill.
"I'm raring to go again and get the third one done, then next year really start ramping it up to get ready for the big game."
Fraser seems to be approaching her third fight with confidence in her boxing talents.
She will spend the next few weeks sparring at the Granite City gym counting down to the big night – potentially the first of many momentous occasions.
Fraser added: "I'm confident. I'm in pretty good shape, I've come back ready to get straight into camp.
"It's just about getting my speed up, my fitness polished off and take my weight off steadily and then hit the target when the day comes – managing it so you peak at the right time."
David McAllister jun, who trains and manages Fraser, aka TFE – The First Ever, said he'll be looking to secure his fighter a title shot towards the end of 2018.
He added this could even be at world level, such is the speed of progression in women's boxing. McAllister said: "I'd say Kristen needs another year of learning.
"I'd say probably the back end of next year we'd be looking at some kind of title.
"There's a girl from Wales, Ashley Brace (7(3)-0-0), that she boxed as an amateur.
"We'll maybe try and get her up for either a British title or a world title, you never know.
"In women's boxing you can be moved on so quickly."
McAllister is attempting to prepare Fraser for the big fights by confronting her with different styles of boxer, although he admits the infancy of the female fight game means the right opponent can sometimes be hard to find.
McAllister said: "It's finding opponents to give them something different (to face) in every fight, so they're not just using the one style.
"It's so difficult when you get to the top level and you're fighting for titles, you're not just used to one style – whether it be southpaw, orthodox, tall, short, puncher, non-punchers, high work rate – you've got to guide them through the best they can.
"It's very hard to get opponents for women. It's one of those things where we've got to scour about and see who's available
"Normally they're coming from abroad.
"European women's boxing is a lot further advanced than ours – we had Jane Couch about 15 years ago, she was the pioneer, and apart from that there has only been a couple of fighters.
"Kristen was the first in Scotland and obviously you've got Katie Taylor bringing it on, now Nicola Adams and Savannah Marshall.
"The French, the Polish, the German, the Russians … they've all jumped on the bandwagon a bit quicker.
"You find a lot of the opponents are coming from there because you need them to be experienced."
Also on the bill at the Treetops are Northern Sporting Club's fellow fledgling fighters – Macduff bantamweight Billy "The Butcher" Stuart, Thurso super-welterweight Chris "The Grim Reaper" Ryder and Wick welterweight Liall Mackenzie.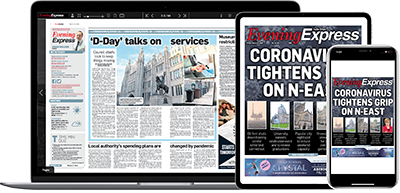 Help support quality local journalism … become a digital subscriber to the Evening Express
For as little as £5.99 a month you can access all of our content, including Premium articles.
Subscribe