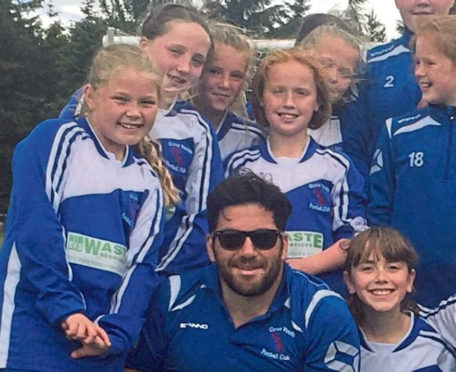 A youth football coach has received an award for his dedication over the past 12 months.
Tommy Russo, of Cove Youth Girls, beat out several nominees to pick up the Scottish Youth Coach of the Year title at the Scottish Women's Football awards.
The 41-year-old, who has trained the team for three years, said his daughter is the reason why he started his journey with the club.
He said: "I got into coaching in 2015 when I took one of my daughters to a session and was told the coach couldn't hold training for a while.
"They asked if I would be able to help out for a bit.
"It seemed relatively simple and straightforward at the time, so I decided to give it a go and have done it ever since.
"I really enjoy it. Ever since starting, everyone has seen a real improvement in the way the players perform together and independently – even with new members."
Tommy's approach to coaching, which he dedicates 10-12 hours a week of his time to, is putting an emphasis on creating a fun and relaxed environment for everyone involved.
And in the past three years, the number of youngsters attending the sessions has risen from nine in 2015 to a current figure of 60.
The coach added: "The parents can't speak highly enough of our coaching. We want to make it enjoyable for the girls, so they're eager to come back.
"I think this is one of the main reasons why I ended up winning the award, along with the fact we've grown so much."
The awards ceremony took place at the Hilton, Glasgow.
A total of 12 categories celebrated a number of devoted players, coaches and teams.
Vivienne MacLaren, chairwoman for Scottish Women's Football, said: "The return of the annual awards, last held in 2013, signifies the vast changes that have occurred within Scottish Women's Football.
"What has not changed is the amount of hard work and dedication that goes into it.
"The annual awards are about celebrating those efforts and the successes throughout the girls' and women's game. "
Tommy added: "For some unknown reason there's been a stigma that girls shouldn't be playing the sport, which is why I think these awards are so important.
"They show that people are continuously working hard behind the scenes to encourage people to appreciate women's football.
"I never thought I'd have a chance of winning after seeing what all the other nominees in my category had achieved in the past year or so, but I feel incredibly proud.
"My daughter Alix nominated me, and it was nice to see that she recognised just how much work I put into the team.
"It was an amazing experience as a whole, made even better by the win."
Ahead of next season, the Cove Youth coaches are aiming to recruit an Under-16s team.
Two open trial sessions will be held on December 9 and 16 at Balmoral Stadium, for girls born between 2003 and 2006.
For more information, visit the Cove Youth Football Team Girls Section facebook page.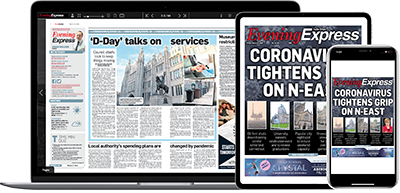 Help support quality local journalism … become a digital subscriber to the Evening Express
For as little as £5.99 a month you can access all of our content, including Premium articles.
Subscribe