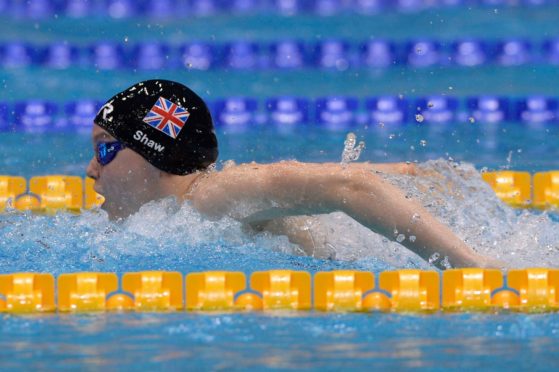 Aberdeen swim star Toni Shaw says the postponement of September's Paralympics in Japan is "definitely good news".
After winning six medals at the World Para-swimming Championships in London last year, the 16-year-old had been expected to qualify for Tokyo 2020 through the British trials in the next few weeks.
However, it has been confirmed both the Olympics and Paralympics have been pushed back to 2021 due to the coronavirus pandemic sweeping the globe.
Albyn School pupil Shaw, whose Higher exams have also been called off thanks to Covid-19, thinks the Tokyo ruling was the right one.
She said: "I guess first of all I was relieved it's still happening at some point, and I think it definitely is the best decision.
"No one would be going there in their best condition. At such a big event, everyone wants to be at their best.
"Knowing everyone now has another year to prepare is definitely good news."
Shaw thinks it would be naive to consider sport the "biggest thing" going on in the world at the moment.
With the rest of the UK, she's currently on lockdown – but she's keeping her fitness up with a chance at some point in the future to better the golds in the 34pt 4x100m medley relay and 4x100m freestyle relay, silvers in the S9 400m freestyle and 100m butterfly, and bronzes in the 100m freestyle and 200m individual medley she won at the worlds.
The Aberdeen University Performance Swim Team member, who is continuing land training at home, said: "In my club each swimmer is taking a session a day, so we join videos doing that.
"Then Scottish Swimming and British Swimming have set up classes, so everyone is coming together and helping each other.
"The pools are sadly closed – the last time I swam was Friday.
"We kind of knew it would be the last session, but had hoped a few of us would still get to come in. But after the session we found out every pool is closed.
"Nothing's quite the same as swimming and all we can do right now is as much as we can on land."
According to Toni's mum Shona, the family had been braced for the International Olympic Committee (IOC) and International Paralympic Committee (IPC) to announce a cancellation or postponement.
She admitted they would've been reticent to travel to Japan during the ongoing crisis and "postponed is the best outcome you could have".
Shona hopes the family's flights which had been booked to the Far East can be carried over.
She also praised her daughter for seeing the bigger picture – and keeping her focus – over the delay to her Paralympics debut.
She said: "Getting annoyed isn't going to change anything and all of the swimming community are working together.
"Aberdeen University Swimming Club are doing videos and live streams, and she's been out running with her dad a few times.
"I'm being roped into pilates, and we've been out with the dog and stuff.
"She won't be like the rest of us and eat junk food, she'll stay healthy and keep focused."