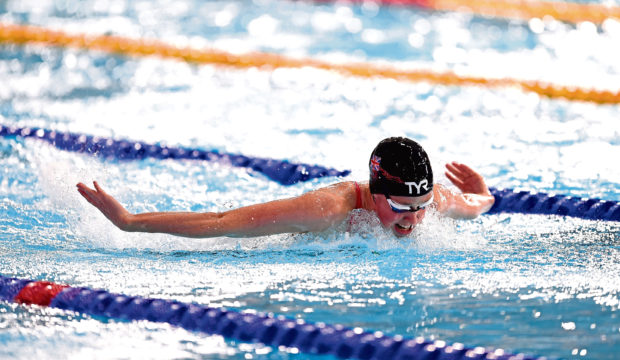 For swimming legend Hannah Miley, the ability to adapt has always been a necessity.
Now, the 32-major-medal-winning athlete is having to work around an ankle healing after ligament surgery and fight back to the top of her sport.
Her coach, dad Patrick, thinks for onlookers "the story will be quite surprising over the next couple of years" as the 29-year-old veteran strives to reach a fourth consecutive Olympic Games in 2020.
Miley, who is in the pool twice a day just three months into a year of recovery, said: "I think the fact I've gone this far in my career without having anything as major as this (injury) is pretty impressive.
"This is a different part of my training.
"When I had my foot in a boot and a cast, I thought 'I've got three other working limbs, I'll just try something different'.
"I've no idea if it's going to work or not, but it's better than sitting still with my foot up.
"I wanted to find a way to make it easier to get back in the water.
"Being in the water is helping me with my rehab."
A 400-metre individual medley specialist, with a fourth-placed finish at the Rio Olympics in the same discipline, as well as world championship silver in 2011, Inverurie's Miley medalled at her third Commonwealth Games in a row this year, winning silver, then took bronze at the European championships in Glasgow.
She's done all this despite starting off in a four-lane 25-metre pool in Garioch.
Miley, who thinks she's looking at the sport "with fresh eyes and onwards for Tokyo", is adept at problem-solving.
She said: "One of our unique points is we've adapted our training.
"We adapted it in the training centre we had; it wasn't the best facility and sometimes we couldn't train, because the water was too hot, too cold or the pool was shut.
"We found ways around it.
"Now we have a facility like the (Aberdeen) Sports Village (Aquatics Centre), but we still want to bring in the same fight and fire we had in the other facility.
"It's a luxury being here, but we don't want to lose that fire and grit, as it's part of who I am."
Patrick, who says it's easier training his daughter than ever before, is also enjoying the unique challenges the injury is presenting.
He said: "It's not about the size of the dog in the fight, it's the size of the fight in the dog.
"As Hannah's developed and become more keenly aware of her profession, there's been less requirement to poke the dog, if you like.
"As we've developed as father and daughter, as well as athlete and coach, we've had to manage those changes.
"In significant ways it's a lot easier. With the feedback she gives me, there's a lot of quality to be able to do something with that."
Former pilot Patrick, who is now a full-time high-performance swimming coach, thinks those who write off Scotland's most successful female swimmer – who lost her British Swimming funding for 2018-19 – by saying she's too old to get back to the top will be in for a shock.
He said: "People question things as people get older, saying they're getting towards the end of their career.
"I think the marathon record was broken at 33.
"There are some events that can have longevity and the changes that we're doing right now are stimulating for Hannah and for me as well."
Patrick added: "From a coach's perspective it opens up, strangely, new ways of thinking for me and different opportunities.
"Hannah's stronger in the gym than she's ever been at this point in a season.
"It's an interesting one for me.
"I'm having to be much smarter with what we do to get to where we need to be.
"For two years, Hannah's been performing at Commonwealth Games and other international meets in significant pain.
"Now that's removed and we get through the full recovery, I know if she goes back to what she was doing before she'll be better than she's been for a few seasons."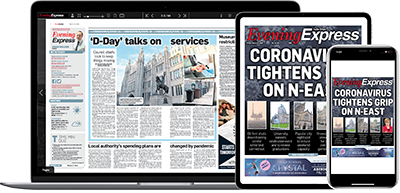 Help support quality local journalism … become a digital subscriber to the Evening Express
For as little as £5.99 a month you can access all of our content, including Premium articles.
Subscribe