"Volleyball in Scotland is on the rise, and Aberdeen is the hot spot."
It is easy to agree with Ken Fraser, the coach of the Granite City's Blaze under-16s boys, who led the team to a league and cup double.
The Beacon club were built at the start of this season from the merger of four north-east teams to create a strong outfit.
The union paid off immediately as the juniors won the cup, beating title holders City of Edinburgh in the capital to bring the silverware to Grampian for the first time.
The Blaze outscored the Edinburgh side 2-0 (25-15, 25-14) crowning their season after an unbeaten league campaign.
Coach Fraser said: "We set out our aims to dominate with our serve, to be positive in defence and assertive in attack.
"The boys were excellent. They have worked hard this season and I'm delighted we will be taking the cup home.
About the club, he added: "The idea behind the union was to provide a pathway for our juniors.
"Now we are one of the bigger clubs in Scotland and we have a very good youth set-up.
"It's the third year that the boys are playing together. Three years ago we reached the cup semi-finals. This year we got it."
A great display came from team captain and Scotland Under-19 player, Yusef Butt, who won the title of MVP.
Fraser said: "He is very good and trains with the senior team. We have other three boys – Bobby Laurenson, Haydon Campbell and Markus Kan – who are in the Scotland East U17s.
"We are progressing through with boys and girls both playing in Europe for Scotland.
"We have another U16 team which is going to replace this year's squad as most of this year's players will progress to U18."
The U18 girls also placed as runner-ups in the final against Marr, 2-0 (25-19, 25-12).
Four members of the squad, Kate Renforth, Karolina Wroblewska, Megan Duncanson and Deirdre O'Riordan, have been called-up by Scotland to face Liechtenstein at the U-19 Euros.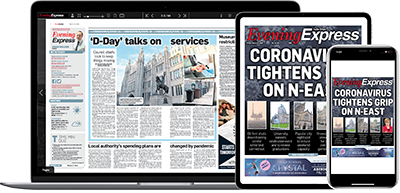 Help support quality local journalism … become a digital subscriber to the Evening Express
For as little as £5.99 a month you can access all of our content, including Premium articles.
Subscribe