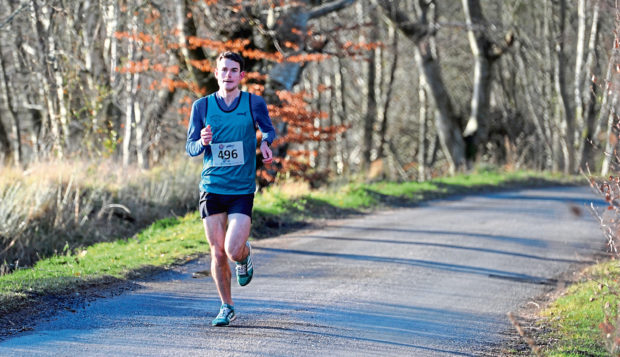 Robbie Simpson bids for a third win in six years when he takes his place on the starting line in tomorrow's Inverness half marathon, which has attracted a record entry of 2,932 runners.
The 27-year-old Deeside athlete set a course record and personal best time of 1hr 4min 27secs when winning last year, just six weeks before going on to pick up a bronze medal for Scotland in the marathon at the Gold Coast Commonwealth Games in Australia.
His other Inverness success came in 2014 when, aged 22, he became the youngest winner in the 35-year history of the race, which follows an undulating route through the streets of the Highland capital.
Simpson is looking for a confidence-boosting performance as he begins to step up his preparations for April's London marathon, in which he's aiming to improve on his best time of 2:15:04 set at the same venue two years ago.
His preparations over the winter haven't gone too smoothly, however, as he has been hampered by a back problem, illness, and most recently a painful foot, but despite all of that he remains quietly optimistic.
He said: "I developed the sore foot after trying out a new pair of trainers. It never felt too bad when I was running, but afterwards it was very painful. If I took a day off it would be fine, but the next time I ran it would flare up again. I certainly couldn't run twice a day.
"My physio, James Cruickshank, worked some magic and seems to have sorted it out so hopefully it will be fine now.
"Despite this, and the other problems I've had, I feel I'm in fairly decent shape. If I don't get a personal best time I won't be too disappointed as it's not the end of the world. I still have plenty of time before London. If I can do around 1hr 5min I'll be happy. Obviously I'd like to run faster, but we'll just have to see.
"I like the Inverness course and I think it's a fast one, but it depends on the weather and how competitive the race is."
Simpson's rivals include his clubmate and fellow Scotland hill running international James Espie.
Metro Aberdeen's challenge will be led by Ben Ward, Tom Doney and Sam Milton.
Metro's Claire Bruce, the Scottish half marathon championship bronze medallist, will be aiming for a top notch performance in the women's division of the race.
The Fraserburgh half marathon champion has a best time of 1:18:27 but will be aiming to go faster this weekend.
She heads a large Metro Aberdeen squad, which also includes Great Aberdeen 10km champion Ginie Barrand, who has a best time of 1:20:05 set when finishing third at Inverness two years ago.
Fife AC's Sheena Logan, who set a personal best half marathon time of 1hr 21min 56secs when winning the Great Aberdeen half marathon last August, will lead a strong Fife AC side.
Garscube's Katie White, who won last year in a personal best 1:15:58, is, however, the stand-out favourite to win again.