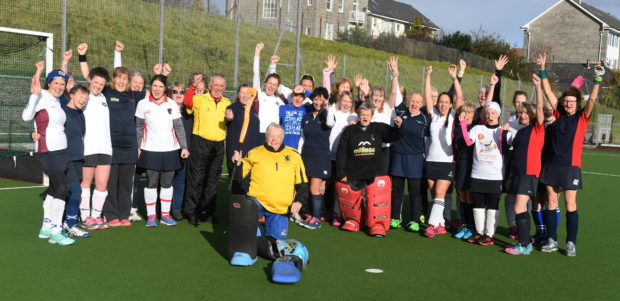 Hockey players from around the country – including an Olympic medallist – gathered in Aberdeen to celebrate the remarkable achievements of a much-respected veteran of the sport.
Sheila Reid, who is goalkeeper for Aberdeen Grammar School FPs and represents Scotland on the international stage, was overwhelmed to see dozens of women she's played with and against over the years turn out for a testimonial match to mark her 76th birthday.
The game saw a Scottish Masters team, with Sheila in goals, take on a Grammar FPs Select at the city club's pitch at Rubislaw, in an event organised by her Masters teammate Babs Buglass, with help from Sheila's adopted daughter Wendy Bruce.
The keeper, who believed she was coming along to a sport afternoon for children, was left speechless as she arrived and realised the event was actually in her honour.
"It was such a lovely surprise. All these people turning out for me, I just couldn't believe it. I kept spotting more and struggled to get round to speak to everyone," she said.
Babs, of Bon Accord MBC Hockey Club, who played alongside Sheila in the bronze-winning Scotland over-60s team at this year's Grand Masters Hockey World Cup, said her idea for a testimonial was warmly welcomed by masters teammates.
Babs said: "Sheila really shows that you can continue to play and enjoy sport for many years, if you're prepared to put in the effort. We were so pleased to be able to do this for her, and to see how much it meant to her."
Sheila was particularly bowled over to see she'd be playing alongside Alison Ramsay MBE. Scotland's most capped female hockey player, she was a member of the Great Britain and Northern Ireland squad who won bronze at the 1992 Olympics in Barcelona. She, along with Babs, was also one of the driving forces behind the creation of the masters programme for older players.
Alison said: "Sheila exemplifies all that is good about Scottish masters hockey. She is a totally committed and enthusiastic member of whichever team she plays for.
"It was no surprise to me to find that players had travelled from all over Scotland and beyond just to be part of her birthday celebrations."
The event took weeks of planning by Babs and Wendy, with everyone being sworn to secrecy.
The teams were well matched in the testimonial game, with the Grammar "youngsters" winning 2-1.
The day was followed with an event at the FPs Club on Queen's Road where Emma Mair, one of the founder members of Grammar FPs Ladies Hockey section, and past president, praised Sheila for her tireless help and support at the club.
Sheila's involvement in sport has seen her win various plaudits. In 2014, she received a Lifetime Achievement Award from sportscotland in their Regional Coaching, Officiating and Volunteering awards.
She may have celebrated her 76th, but any suggestions of retirement were dismissed by Sheila, who is up for selection for the European Grand Masters tournament next June in Belgium.
"We play because we love it and I'll be playing as long as I'm enjoying it. I've no plans to slow up," she said.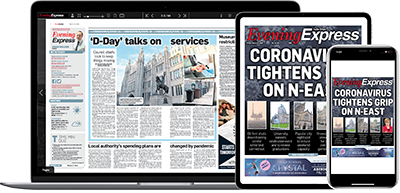 Help support quality local journalism … become a digital subscriber to the Evening Express
For as little as £5.99 a month you can access all of our content, including Premium articles.
Subscribe