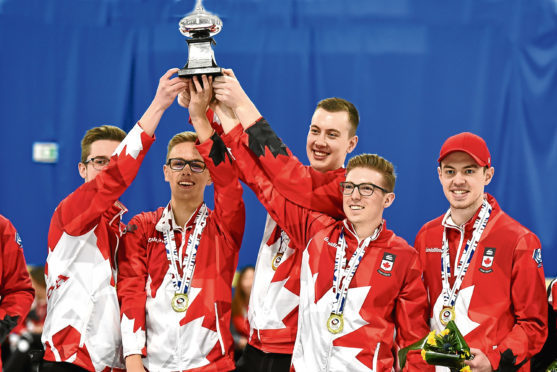 Scotland men's skip Ross Whyte is hopeful of returning to junior curling's biggest stage after his rink lost the world final 6-5 to Canada in Aberdeen.
In a day of high drama at Curl Aberdeen, the World Junior Curling Championship's two undefeated sides – the Scots men and Swedish women – got silver.
The team of skip Whyte, vice Robin Brydone, second Fraser Kingan and lead Euan Kyle took the remarkable second-place-in-the-world prize, along with alternate Duncan McFadzean.
In the bronze medal match, Switzerland defeated the United States 7-4.
When asked how he was feeling, Whyte said: "Not fantastic. The Canadian boys played really well, but we didn't have our best game and that's what happens when you don't play well.
"It just wasn't our best. I don't know what happened – whether it's nerves, but the Canadian boys came out firing, so fair play to them and well done."
After the match, the skip said his side's nine-game unbeaten run to the final felt "like nothing".
However, the 19-year-old said it was a tournament he was hoping to return to before he hits the age limit of 22.
He added: "We'll get our group together for next year and we'll see what happens."
It was scoreless until the second end in the showpiece, where Scotland took a 1-0 lead despite Brydone "burning" a stone, or accidentally seeing it hit his foot.
This was a let-off for the Scots and there was another in the third. Canada only managing one point, despite it looking like they should have done more than tie the scores.
Whyte only had to draw his final stone of the fourth into the house to make it 2-1, which is where it stayed into the break, Switzerland using their fifth-end hammer to clear two Scots' stones from the house.
After the interval, things became tense for Whyte's rink and their fans. A scrappy sixth end climaxed with a successful Tyler Tardi draw, which gave Canada three points.
At 4-2 going into the seventh, Scotland needed to start making up the ground, but after a poor draw with his penultimate stone, Whyte couldn't use the hammer to prevent a Canadian steal of one.
There were no points in the eighth, but after both skips made mistakes, Whyte scored a two to make it 5-4 going into the 10th end.
Kingan was clearly frustrated with his shots as the pressure built on the Scots to steal something, but they got a stone in the house and Brydone and Whyte did brilliantly to keep guarding it to take it to 5-5 and an extra end.
After good work from his team left two in the house, Whyte's attempt to land another guard with his penultimate shot came up short of the hog line, allowing Tardi to clear out the two Scots' stones.
Whyte drew his final stone to the back of the button, but Tardi produced a draw of his own to win the gold.
Canada's winning skip Tardi said: "It's a dream come true. I can't believe it."
Of the three points which put the Canadians in control, he added: "It gave us the lead, but I wouldn't exactly say it made us feel comfortable.
"They are all great shooters on the other team.
"Hats off to them, they made a really good comeback (to force to an extra end.)
"They made a lot of shots and made us really work for it.
"To do it with these guys, there's not three better guys I could imagine winning it with."
In the women's gold medal game, defending champions Sweden, undefeated in the championships until Saturday, were beaten 7-4 by Canada.
The Canadian team of skip Kaitlyn Jones, Kirstin Clarke and Karlee and Lindsey Burgess, took two points in the third end to move into a 2-1 lead and were never behind again.
Sweden levelled in the fourth, but a double take-out made it 5-2 Canada at the halfway point. By the end of the eighth, Jones' side had a 7-3 lead and, despite another Swedish point in the ninth, they conceded in the 10th to award Canada's women their 12th title at the junior worlds.
Jones said: "This is indescribable and I feel amazing right now. I know I put everything out there on the line today and came out on top and that's just an incredible feeling.
"I'm super proud of my team. We've worked so hard to get here and for me moving all the way across Canada to play with them, it was one of the best decisions I've made.
"It's a goal to force them to one and we got the end-goal that we wanted. Whenever they had the hammer we wanted to keep them close to one."
Sweden's skip Isabella Wranaa was disappointed with winning silver.
She said: "We played really well in the first 10 games then we had one poor game and ended up with silver."
She added: "I think we were a bit unlucky and the Canadian skip (Kaitlyn Jones) played really well today.
"Of course, we were looking to defend our title but this happens and it's not the happiest moment in our lives really."
While Canada were piling yet more world juniors medals on the heap they've won over the years, China's 11-5 win in the women's bronze medal match over Norway was their first at this level.