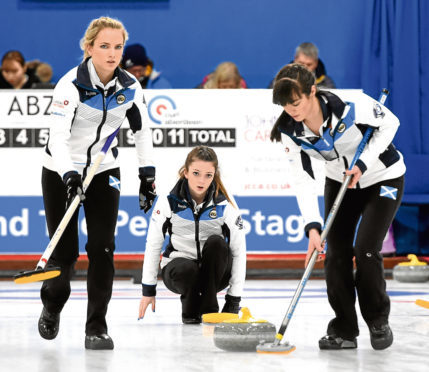 Scotland junior skip Rebecca Morrison thinks it's all to play for at the World Junior Curling Championships in Aberdeen with her rink in joint third.
Team Morrison remained behind Sweden and Canada in the table last night after losing to Korea 8-5 – their third loss of the tournament.
The Scots are level with the Koreans, China, Norway and Switzerland in the standings as all five have a 50% win record so far.
Aberdonian Morrison, 21, who was leading her team against undefeated Sweden in today's morning session and the United States this evening, said: "We were joint third after Monday and we're still there today, so it's all very close. Sweden is a big game for us and hopefully we can win that, then they win the rest of their games.
"It's good that China just lost to them, but we're going to have to come out all guns blazing for that game.
If third place is as congested at the end of the round-robin stage of the competition tomorrow, Scotland's impressive draw shot challenge performance could see them through to Friday's semi-finals.
Morrison's rink have only been overshadowed by the Swedes in the challenge, which is used to decide which team has the hammer at the start of each match and is the deciding factor if the round-robin fails to leave four teams clear at the top of the table.
The skip said: "It's important not to think about the draw shot challenge during the game. We need to focus on one at a time, but we want to win them all.
"But it's not something I'm thinking about too much right now and I don't want to get too caught up in it."
Korea drew level on wins with the Scots after the home side's poor fourth end at Curl Aberdeen.
The Asian side were 1-0 up after three ends, but they scored three points in the fourth to pull clear.
Morrison, who was quite positive despite losing the match, said: "We had a really bad fourth end – there were a few misses that made it quite tough for me.
"Apart from that end it was quite close. But it was tough to get back after that."
Scotland finally put a point on the board in the end before the interval, but no shift in momentum followed the break.
The Koreans, never out of control, led 6-1, then 6-3 and, crucially, 8-3 after eight ends.
Morrison deemed the ninth end worthwhile, but could only get the game back to 8-5, where she conceded.
Of continuing to chase a result, Morrison said: "I didn't think there was a huge chance we could get back into it. I thought we could get a three in the ninth, but unfortunately it didn't work out."
In the men's draw, Ross Whyte's rink continued their remarkable unbeaten run.
They beat Korea 7-5 in the morning session and then the United States 6-5 after a pulsating extra end.
The Scots are two wins clear in the table with Canada, Switzerland and the United States second and Germany in fifth. Whyte's side were playing Switzerland this afternoon.
The World Junior Curling Championships run until Saturday, with tickets available at the door or at https://www.eventbrite.co.uk/e/world-junior-curling-championships-2018-tickets-38532339264