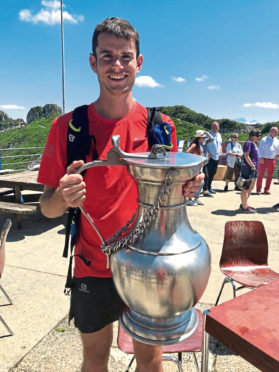 Robbie Simpson received a big surprise when he won the Montreux les Rochers de Naye mountain race in Switzerland for the third year in a row.
The Deeside athlete was delighted to complete a notable hat-trick of victories but didn't expect to be told he could keep the winner's trophy on a permanent basis.
Not a problem, you might think – until you appreciate that this cup is so large it could hold enough liquid to fill a small bath.
Simpson usally travels light and was initially concerned about how he might get the trophy back to his Banchory home. But, fortunately, his hosts offered a solution.
He said: "It weighs about 15kg but luckily they are going to ship it over to Scotland for me."
Simpson has spent the past six weeks living in Crans Montana where he has been preparing for this weekend's Zermatt alpine marathon.
It will be his most important race since winning a bronze medal in the marathon at the Gold Coast Commonwealth Games in April.
Simpson said: "It has been on my list of races to do for many years as it's a classic alpine marathon and runs all through the Zermatt valley with views to the Matterhorn and surrounding peaks.
"Zermatt is an amazing town and with a big event like this I think it will have a great atmosphere. With it being mostly uphill it should be a hard work-out but hopefully won't cause as much muscle damage as a road marathon so I can still race later in the summer.
"It's one of the biggest Alpine races after the Jungfrau marathon and the Sierre-Zinal.
"It has always attracted top international runners and a few years ago it was the world long-distance mountain running championship, so it's well known on the mountain and trail running scene.
"I'm really happy with how the last four or five weeks have gone since getting here and also the few weeks of training before I came out.
"I was able to put in a lot of hours of running and some solid sessions on the mountains and on the roads. Over the last three weeks I've raced each weekend and been happy with how it's gone without easing back the training too much.
"Now I'm beginning to freshen up and will hopefully feel good for the marathon. From what I've seen, the other main competitors are the Kenyan Isaac Kosgei and Patrick Wieser from Switzerland, although there could be some last-minute entries.
"They've both ran well here in recent years and know the course.
"But I've felt in good shape recently and think I can make it a tough race for them.
"If I race as well as in the previous weeks it should go well but with a long race like this, on tough terrain and potentially difficult weather conditions, I'll have to make sure I pace it and refuel well throughout."