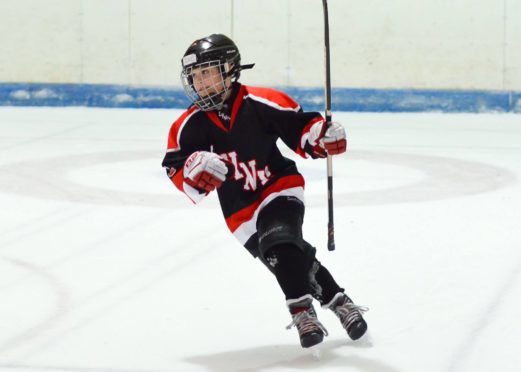 Young Aberdeen ice hockey players have been playing against kids up to four years older than them – and impressing.
Aberdeen Lynx head coach Owen Reynolds praised the "brave" youngsters, who are all eight or nine years of age, as they've made the step up to the club's Under-12s side, who beat Moray juniors 12-3 at the weekend.
"Playing up" is common practice in all the Lynx's youth groups as they attempt to counter a shortage of players at certain ages.
However, players like Zac Thomson, eight, who scored a hat-trick against Moray, Owen Johnstone, eight, and Logan Gordon, nine, are not just making up the numbers in the Highland Lynx U12s – so called because players from Inverness are also drafted in.
Reynolds said: "They regularly play against kids three or four years older and often excel in those games, not just make up the numbers, with Zac regularly finding the back of the net.
"While they've had some tough results they've also had some positive wins.
"With a good few years of U12 hockey ahead of them, I'm sure they'll go on to form the backbone of a highly competitive team."
U12s is the first chance eager young players have to play competitive hockey, with any players too young for the team becoming part of the Mini Lynx set-up at the club.
Reynolds thinks the experience of league hockey is beneficial for the players who are ready to step up, and the future looks bright.
He said: "We only have one player in his final year of U12 hockey so it's quite a young, inexperienced team overall, with quite a few players in a similar position to the three mentioned above.
"The three mentioned have been with the club the longest, though – Zac started when he was four and Owen and Logan when they were five.
"They essentially formed the Mini Lynx with a few others who aren't old enough to play U12 hockey yet.
"Up until this season they've only been able to train and play in a handful of cross-ice tournaments, so although they're still very young to be playing U12 league hockey, it's great experience for them."
Despite the efforts of the U12s, they are still sitting second bottom of their league, with eight defeats so far this season. Reynolds has to balance exposing the really young talented crop to competitive hockey, while making sure the losses don't have a negative effect on them.
He said: "My concern is keeping them engaged.
"They've beaten the poorer teams in the league, but they are still suffering heavy defeats against the better teams and that can really put them off – regardless of what parents or coaches say.
"There's nothing fun about losing 20-0.
"As long as they are still having fun with it, there will come a time when the results go their way."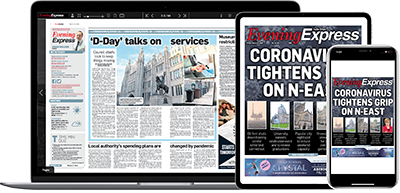 Help support quality local journalism … become a digital subscriber to the Evening Express
For as little as £5.99 a month you can access all of our content, including Premium articles.
Subscribe