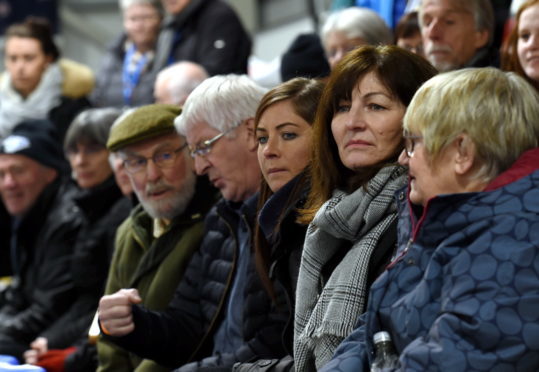 Triple-Olympian Eve Muirhead thinks Aberdeen's Rebecca Morrison will learn from her experiences at the World Junior Curling Championships in the Granite City.
Speaking to the Evening Express as Team Morrison played their final game, the sport's star and Olympic bronze medallist in Sochi 2014, noted the "massive" influence the competition had on her own career.
Scotland's women lost their final match last night – a narrow 7-6 defeat to Russia – which left them ninth in the table with a record of three wins and six losses. As a result of this, they have been relegated to January's B-world championships in Lohja, Finland, alongside Turkey and Russia.
Muirhead, 27, who was at Curl Aberdeen to support the women, said: "I think it's massive (for Rebecca). Having been at several world juniors, it's where you learn everything.
"I can definitely say that's where I learned the majority of my curling.
"You don't play as much high-class curling until you come to international events.
"For Rebecca and the rest of the girls, they should be learning as much as they can out there.
"When you're in your home city as well, it's a dream come true for any curler to play your first international event there."
Team Muirhead are currently dealing with their own disappointment. After returning from the Pyeongchang Winter Games medal-less, they last week lost a play-off for the Scottish national title and their place at the senior worlds to Hannah Fleming's rink.
The skip, who won the world junior title four times in five years and only missed the other year, 2010, to compete at the Vancouver Olympics, said: "Every athlete goes through highs and lows. I always believe you've got to learn how to lose before you learn how to win.
"I can assure you I've been through a lot of very tough losses.
"One of the hardest was just last week (the Scottish play-offs), but that's sport – it comes down to the smallest of margins.
"I know in a lot of their games here, they've been very close, they've been 4-1 or 5-1 up and lost the game.
"It can only come with experience. I know a lot of teams out there – the Swedish and the Canadians – have a lot of experience under their belts.
"They've got to learn as much as they can, enjoy it and work out what you can build on for future times."
The Scots' match with Russia – which saw the original Team Morrison line-up restored – was tied after the first five ends, with Russia scoring two points before the interval to bring the score to 3-3.
In the championships, the women's rink had shown a tendency to give up an early lead and then find themselves behind.
In the sixth end, they used the hammer to pull 5-3 ahead, however, were pegged back again when the Russians took it to 5-5 after the seventh.
Morrison curled a great penultimate shot to the button in the eighth end to make it 6-5, before a scoreless ninth.
The final end was heartbreaking for the result-battered Scots, however, who conceded two points to exit the championships with another loss.
Morrison, 21, third Amy Macdonald and second Hailey Duff are too old for the juniors next year, but lead Leeanne McKenzie, 18, could potentially appear at another world juniors.
Undefeated Sweden, containing Pyeongchang gold medal-winner Jennie Waahlin, were set to take on Norway in today's women's semi-finals, while Canada were up against China for a place in tomorrow's final.
It's not all doom and gloom for the women's game in Scotland. If the team sent to Finland for the junior B-worlds place highly, they'll still be a next year's world juniors proper.
It was, however, much better news in the men's draw.
Ross Whyte's unstoppable rink completed their blemish-free progression through the round-robin with a 7-3 win over Sweden.
They were set to contest their semi-final with Switzerland in tonight's evening session.
The other semi-final is Canada v United States.